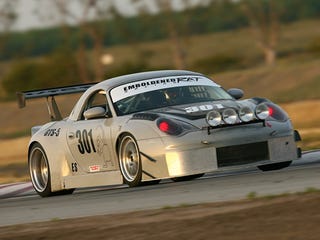 The first race of NASA's 2010 Western Endurance Racing Championship series is in the history books. Some cars were victorious, some cars died, trophies were distributed and post-race beer was consumed.
CLASS E3
The best race of the weekend at Buttonwillow Raceway Park was the E3 class with the entire podium finishing on the same lap. First and second were seperated by a mere 15 seconds after three hard hours of racing into the darkness.
Team Full of Blarney in the number 41 Mazda Miata took E3 first place honors with Brady Flaherty driving the entire 3 hour stint solo. He was sponsored by RJ Racing. His Miata ran out of gas on the cool down lap with Krider/Kramer Racing breathing down his neck at the finish.
Keith Kramer and Rob Krider finished second after leading a good portion of the race but had to do a late race splash-and-go for fuel (giving up their lead) in their number 33 gas-guzzling Nissan Sentra SE-R sponsored by Hoosier Tires, I/O Port Racing Supplies and ST Suspensions. Not too shabby for a LeMons team (no they didn't roll over this time at Buttonwillow). The team's success is owed 100% to their outstanding pit crew.