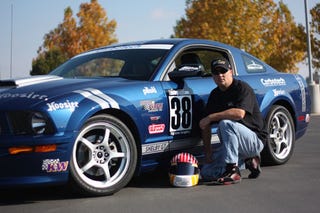 The Forum Wars is the show that puts two different nerdy forum posters car guys from different automotive forums to do battle on the track. Let's see if they can drive like they type.
Each episode of The Forum Wars, presented by Royal Purple, starts off with both drivers talking smack about each other's rides. Then it's put up or shut up time on a drag strip and a road course in front of the cameras. Teasers of the episodes have been airing on the Speed Channel with full episodes viewable online at theforumwars.tv
I had the honor of being on Episode 1 driving my friend Steve Kuhtz's 2008 Ford Mustang Shelby GT as a representative for Stangnet.com up against a So-Cal drifter in a Nissan 350Z representing My350Z.com. Steve had his Shelby prepped for SCCA Pro Solo competition while the Z was prepped for drifting, or maybe just for looking cool in a Starbucks parking lot, I wasn't sure until the race actually started.