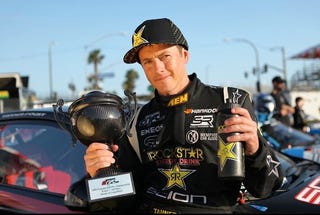 Tanner Foust recently drifted his way up a section of Los Angeles's famed Mulholland Highway. The video is everywhere, but I was once lucky enough to ride with him. Wanna know what it feels like to be inside the car?
Professional drifting is many things, but it is not for the meek. You are behind the wheel of a car, you are massively, impossibly sideways, and you are tearing across a paved surface, often very close to walls or other cars, at speeds normally reserved for highway travel. You are a bullet without a target, a knife balanced on the blade. And if you are doing it regularly without crashing, you are pretty damn talented.
Naturally, Tanner Foust is pretty damn talented. He is also a remarkably intelligent guy who knows how to promote himself — unlike most professional drivers, his career has largely been conjured from self-promotion and willpower, not mere driving skill. That he eventually found backing and produced the Mulholland video — a latter-day riff on the Ken Block gymkhana theme — should surprise no one familiar with his career.