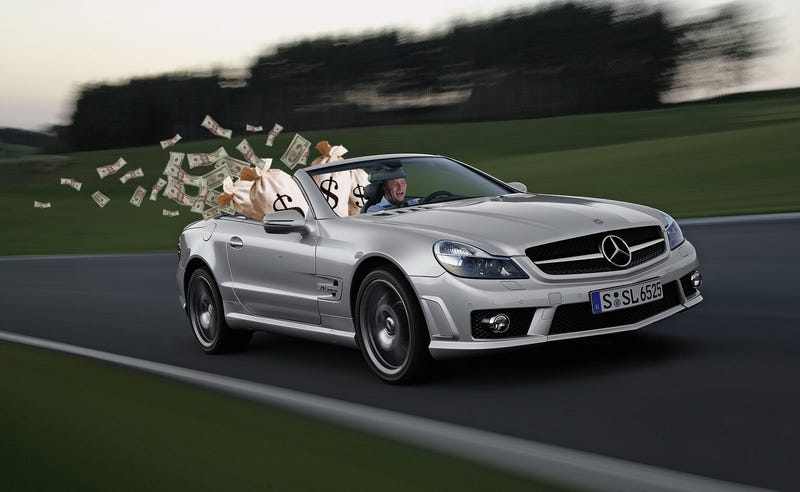 Insure.com has assembled a new list of the 20 most expensive cars to insure in America. Like speed? Say goodbye to your hard-earned skrilla.
The information in this list is based on rates for a 40-year-old male with a clean driving record. As Kim Hazelbaker of the Insurance Institute for Highway Safety put it, "The most expensive list includes cars that people don't have to drive but want to."
None of this makes us feel any better when we look in our refrigerator and see nothing but month-old cheese slices and half-empty cans of Coke. Ah well. Here's to poverty!
[Insure.com via EGMCarTech]
20. Jaguar XKR
Average Annual Cost: $2533.48

What You Need to Know About It: The spiritual successor to the E-Type. Usually driven by senior citizens. Sublime balance of ride and handling. Kind of looks like a sex organ on wheels. Expensive, and build quality is iffy. But then, you knew that.
19. Jaguar XKR Portfolio
Average Annual Cost: $2537.79

What You Need to Know About It: An XKR with a bunch of luxury add-ons and uprated brakes. Sexier, cushier, and now with added cat. Probably worth the extra four bucks a year.
18. BMW 760Li
Average Annual Cost: $2565.59
What You Need to Know About It: A 6.0-liter, 554-hp V-12 developed by a company whose middle name is "motor." Big, silent, swift, smooth. The "Li" bit stands for "Likely to make your house feel cramped." (Or, you know, "long-wheelbase, injected." But that's boring, isn't it?)
17. BMW M6
Average Annual Cost: $2627.27

What You Need to Know About It: An F1-inspired V-10, chassis and driveline bits shared with the E60-chassis M5, and an optional carbon-fiber roof. Still, who would've thought that something that looks so... uh... interesting would be so damn expensive?
16. Mercedes-Benz CL63 AMG
Average Annual Cost: $2646.92

What You Need to Know About It: Essentially an S-class coupe with one of the world's craziest production engines under its hood. Annihilates highway miles like nobody's business. Sounds rip-your-face-off amazing if you let it breathe a bit.