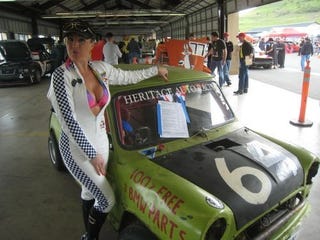 Not sure how many cars the LeMons Supreme Court inspected for violations of the $500 budget rule today; supposedly 150 or so showed up, but many failed the safety test and never made it to us. Anyway, it was plenty!
Does a Malaise era Lincoln Town Coupé belong on the storied Sears Point aka Infineon Raceway track? Of course!


Provided it has a functioning 8-track, that is.


The Italian Stallions Fiat X1/9 team cooked up some meatball sandwiches for everyone.


It turns out that post-apocalypse Australian Hasidim drive Ford Capris. Meet Team Mad Maxeltov!


How's this for meta-what-the-hell weird: a VW team with a LeMons Judges theme! Yes, they are dressed like yours truly and Judge Jonny.


Best bribe of the day? A free Ford Tempo to use as the Judgemobile. We'll use it to mount the Ghost Ride The Whip box this weekend, and then it will probably meet a fate that will sadden Ford_Tempo_Fanatic. Sorry, FTF!


The Team Schitroën Air Prance Citroen DS (actually an ID19, if we're honest) appeared to be close to race-ready as of 9:00 PM, after one of the craziest last-second thrashes we've ever seen at a LeMons race. Run by the same lunatics that won the Index of Effluency with a 1962 Austin Mini at the Buttonwillow Histrionics last summer, this car had sat for 20 years before being purchased for 300 bucks a couple months back. It drove a slow lap around the paddock under its own power at about 4:00 PM Friday, which was the first time it had driven anywhere since the 1980s.