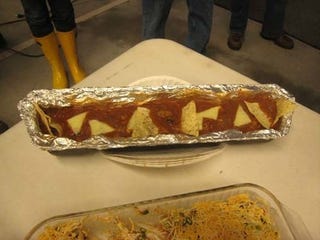 We decided to hold the First Annual LeMons South Chili Cook-Off today, and the Best Chili Presentation trophy- if we had such a thing- would have to go to the Tunachuckers Volvo Amazon team.
The Index of Effluency and Heroic Fix-winning Tunachuckers had some bad luck early on; their engine's oil drain plug fell out on their very first lap under the green flag, which led to all the oil spewing onto the asphalt and a spun rod bearing. Whoops!


They tried to de-seize the engine by push-starting, but no dice. Then they took the ol' B20 apart, grabbed the decorative rod from the car's roof (a souvenir of their Heroic Fix 40-minute long block swap from the last race), cleaned up some trashed parts-stash bearings with a Dremel, and got the whole mess back together.