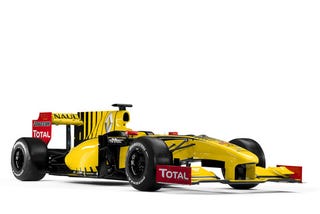 If paintjobs can win races, the entire Formula One grid must be quaking in their Nomex boots. Renault's vespid R30 is one hell of a looker.
While a pleasing slap in the visual cortex, the livery is no spring chicken: yellow and black hail from Renault's very first Formula One car, the Yellow Teapot, first raced at the 1977 British Grand Prix.
Also known as the RS01 when not a butt of jokes on French reliability, it was the first turbocharged Formula One car, spearheading a revolution which would conquer the entire series by 1983 or so and spawn cars like the absolutely fabulous 1500+ HP turbocharged Brabham-BMW's.