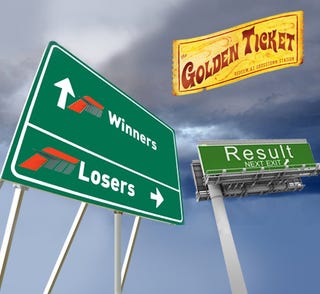 It's been a long, arduous journey, but take heart: Voting for the Jalopnik Forza Motorsport 3 Downloadable Car Pack is half over. Round Two begins shortly, but for now, here are Tuesday's winners. Also, some very good news.
Yesterday was the second day of voting for Jalopnik's community-decided car pack. It was a day fraught with intrigue, bloodshed, and strife, to say nothing of a particularly feisty BMW 2002. Good cars were lost. Questionable — and yet inexplicably popular — machines moved forward. Many Bothans died to bring you information that you may not necessarily have wanted.
Nevertheless, a new day has dawned. We enter into this heartbreaking freedom of opportunity with a kind of — how to put this? — opportunistic, heartbreaking freedom. Or something like that. Democracy is working. The people are speaking. The commentariat is, as usual, a lovably grumpy bunch of malcontents and championeers of awesomeness. (Yes, we know "championeer" isn't a word. But it fits.) And we stare into our screens, our pixels, and our hearts with a renewed sense of optimism.
Admittedly, part of that is because we have some good news to deliver: Weepy because a specific car didn't make it in? Frustrated because Internet democracy is just too dang... democratic? After late-night discussions with Turn 10 Studios, the outfit that produces Forza, we have a solution. In the interest of keeping the whole process as excellent as possible, Turn 10 has asked us to introduce something called the Commenter Golden Ticket.
In a nutshell, the Commenter Golden Ticket is a way for once-dead cars to come back to life. At the end of each day, Turn 10 will evaluate polling results and commenter opinion and bring back five cars that they feel are Jalopnik-worthy. These cars will remain a secret until polling opens. Commenters, this exists solely because of you and your willingness to never shut up speak up. You guys rock, and you should be proud of your grease-stained, rabble-rousing selves.
Housekeeping errata: Because so many of you asked, wallpapers of our Forzalopnik car collages and public-service announcements are on the way. They'll be delivered once the glorious, mind-breaking mess joyous business of voting is over. (Any interest in posters of this stuff? Speak now.) Along the same lines, we've also included the vote counts (see below) for the also-ran cars from each poll. Voting was accomplished by a bunch of impartial, pint-size servants we keep in the trunk of Wojdyla's suicide-door Continental. Pay no attention to the Lincoln behind the curtain.
Round One, Group IV
1. 1973 BMW 2002 Turbo, 7982
2. 1980 Lotus Esprit 2.2, 7706
3. 1998 Aston Martin V8 Vantage V600, 6856
4. 1974 Ford Escort RS1600, 6773
5. 1988 Pontiac Fiero GT, 6071
6. 1996 Audi RS2 Avant, 6026
7. 1980 Mercedes-Benz 450 SLC AMG Group 2, 5709
8. 1992 Jaguar XJR-15, 5589
9. 1989 Toyota MR2 SC, 5432
10. 1997 Honda Civic Type R, 5150
The Also-Rans:
1968 Oldsmobile Hurst/Olds 442, 5107
1988 Mitsubishi Starion ESI-R, 5059
1988 Volkswagen Golf GTI VR6, 5059
1970 Buick GSX, 5021
1979 Lancia Montecarlo, 4477
1971 Ford Falcon GTHO Phase III XY, 4281
1970 Mercury Cougar Eliminator, 4082
1992 Mitsubishi Galant VR-4, 3838
1957 Ford Thunderbird, 3403
1962 Ford Thunderbird, 2771
Round One, Group V
1. 1999 Lotus Elise Sport 190, 6574
2. 1984 BMW M635CSi, 6530
3. 1969 Pontiac GTO Judge, 6528
4. 1981 Volkswagen Scirocco S, 6219
5. 1966 Jaguar XJ13, 6107
6. 1984 Peugeot 205 Turbo 16, 5864
7. 1988 Nissan GTS-R R31, 5857
8. 1965 Pontiac GTO, 5362
9. 1970 Alfa Romeo Montreal, 5277
10. 1970 Chevrolet Camaro Z28, 5211

The Also-Rans:
1991 Nissan Pulsar GTI-R, 5091
1983 Volvo 242 Group A Homologation, 5095
1978 Ford Mustang King Cobra, 5052
1992 Nissan 240SX SE, 5022
1964 Chevrolet Impala SS, 4482
1997 Subaru Alcoyne SVX, 4256
1986 Peugeot 205 GTi, 4204
1999 Vauxhall Vectra GSi, 3689
2000 Lexus SC300, 3504
1994 Volkswagen Polo G40, 2948
Round One, Group VI
1. 2002 BMW Z3 M Coupe, 7047
2. 1955 Porsche 550A Spyder, 7000
3. 1990 Mercedes-Benz 190E 2.5-16 Evo II, 6736
4. 1959 Aston Martin DBR1, 6719
5. 1970 Plymouth Hemi 'Cuda, 6248
6. 1965 Ford Mustang Coupe (Fastback), 6216
7. 2000 BMW Z8, 6194
8. 1970 Datsun 240Z, 6137
9. 1997 Ford Probe GTS, 5883
10. 1995 BMW 850CSi, 5793

The Also-Rans
1965 Porsche 356 Carrera 2, 5553
1995 Ferrari 348 GTS, 5516
1986 Dodge Shelby Omni GLHS, 4982
1993 Saab 900 Turbo, 4606
1986 Ford Capri 3.0S, 4543
1970 Dodge Coronet R/T, 3720
1990 Mitsubishi Eclipse GSX, 3572
1993 Renault Clio Williams, 3560
1970 Toyota Corolla, 3033
2000 Toyota Chaser, 2426