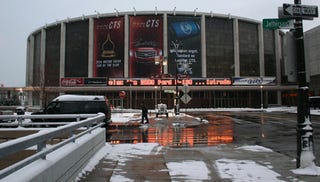 There's hardly any new cars on show here in Detroit, but don't worry, journalists that rely on the car industry to feed them have found another way to justify their meal tickets. Apparently, the big story this year is "optimism."
"A new sense of optimism filled the Detroit auto show Monday," writes the AFP. "Optimism reigns in Detroit as big auto show begins 2-week run," says the AP. "Detroit auto show does without glitz, but there's a sense of optimism in the air," barfs the Pittsburgh Post Gazette. In fact, a Google News search for "optimism detroit auto show" returns 741 results.
What do we have to be optimistic about? According to the AP, Chrysler is going to slow the rate at which it fires people (they're calling that "hiring"), Ford won two Car Of The Year awards by the hometown press, GM's going to make more crossovers, Chrysler/Fiat will hire temporary employees instead of full-time ones when it eventually gets around to importing cars like the Chrysler Guido and the company announced it hadn't lost any more of its cash reserves since November. We didn't realize there was free crack on offer here at the show, but as soon as we finish writing this article, we're going to go find some.