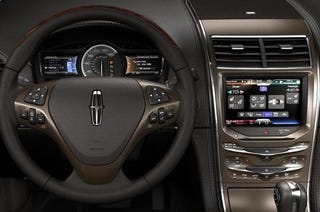 Just when everyone else was catching up to Ford's standard-bearing infotainment system, the propeller heads in Dearborn have unveiled their next-generation human machine interface, and based on what we've seen it's really, ridiculously good.
The MyFord Touch and MyLincoln Touch are the next evolutions in Ford's control scheme. It takes the navigation plus Sirius Travel Link system and simplifies and augments all aspects of operation. When Ford approached the problem of the human machine interface (HMI) they decided to resolve it into four distinct groupings, phone, navigation, entertainment, and climate. They put these four segment in the corners of the navi screen and made each report current conditions regardless of how deep you've dug into the file structure.


This is kinda... silly, but Ford's calling it's control scheme a combination of GUI, TUI, and VUI, or graphical, touch, and voice user interface. It takes commands from those inputs and makes them useful for user interfacing, we've seen it, the thing works amazingly well. They've even made it possible to actually talk to your car like a normal human being to get things done. Instead of uttering contrived strings of commands, you can just ask your car to "phone Ray," or what ever. No "Phone" - wait - "DragonMaster" -wait- "Dial" baloney anymore. It's much more natural.


In addition to considerable revisions to control scheme, the new system makes use of the SmartGuages pioneered on the Ford Fusion Hybrid and Mercury Milan Hybrid and puts those little LCD screens to good use by making them relay information useful to the driver. They're controlled by directional pads on the steering wheel and allow the diver to do almost any control method without taking their hands off the wheel. That and they still look really cool. We can't tell you where they live yet, but you'll be seeing it shortly.
myford TOUCH DEFINES INTUITIVE DRIVER EXPERIENCE: ADVANCED CAPABILITIES ALL VOICE-CONTROLLED NOW

LAS vegas, Jan. 7, 2010 – The new MyFord Touch driver connect technology announced today at the 2010 International CES is designed to be powerful yet intuitive for drivers, blending strengths of the most proven interfaces in consumer electronics – including MP3 players and mobile phones – with a new generation of Ford's award-winning SYNC system.

"MyFord Touch, combined with new SYNC functionality, creates an experience that will cause people to fall in love with their vehicles again," said Derrick Kuzak, Ford group vice president, Global Product Development. "It's not just a technology; it's an experience – one we hope will have people across the globe looking forward to spending time behind the wheel of their vehicle."

MyFord, which will be branded as MyLincoln Touch and MyMercury Touch on respective Lincoln and Mercury brand products, redesigns the in-car interface, mirroring how consumers interact with most devices in their lives using touch-sensitive buttons, touch screens, thumb-wheel controls and voice recognition.

In that respect, MyFord is instantly familiar. Using reconfigurable displays and simplified voice commands, though, MyFord also can present multiple layers of information, just as the driver wants it.

"MyFord really is about managing information," said Jason Johnson, Ford user interface design engineer. "Driving is the priority when you're behind the wheel, so we've made it possible to simplify the content management so customers can drive with minimal distraction. In the end, what MyFord displays is really up to the driver."

MyFord Touch layout
MyFord Touch retains the traditional car interior layout that has existed for decades – instrument cluster in front of the driver, center stack dividing the dashboard – and adds even more voice control plus full-color LCD screens for much of the visual information presentation. The information presented is customizable by the driver using a combination of voice controls, touch-screen technology and five-way cell phone-style buttons mounted on the steering wheel.

MyFord Touch displays information using two 4.2-inch full-color LCD screens flanking an analog speedometer and an 8-inch touch-screen LCD at the top of the center stack. A five-way switch on each side of the steering wheel crossbar – similar to the one found on most mobile phones and MP3 players – controls the information displayed on the corresponding instrument panel screens.

"The steering wheel has all the necessary functions available in a very compact area, right where your hand falls as you grab the wheel," said Johnson. "The five-way buttons will feel familiar to anyone who has used a mobile phone or MP3 player. Drivers aren't forced to use a quirky or unfamiliar interface like a joystick or rotary knob."
The left display, which is controlled by the left five-way controller, features information and settings for the vehicle: fuel economy, mechanical status, safety features.

The right display, controlled by the right five-way controller, contains infotainment information: audio settings, climate control, phone communications and navigation menus.

Those same right-hand functions also appear in the vehicle's center stack, now augmented with capacitive switches and touch-screen technology, which subtly replaces most traditional knobs and switches.

Lincoln center stack applications will take touch-sensitive technology to the next level with fingertip "slider" controls for audio volume and fan speed. Occupants will slide a finger along the touch-sensitive slider bar to adjust settings as an LED chaser gives a visual representation of volume or fan speed.

Available touch-screen display
The 8-inch touch-screen center stack display is the key interface on MyFord Touch. Designers employed a four-corner solution for its layout, representing the four activities most important to customers: phone, navigation, climate and audio/entertainment functions.

Regardless of what menus customers are viewing, a single touch on the appropriate corner will always bring up the desired functionality, and in most cases, a voice command also can be used to adjust the controls.

With the four-corner layout, functions are where they're expected to be, and they're always visible on the screen, so it's clear and easy for users to understand where they are in the system.

Color also is used to give drivers intuitive visual cues between the central 8-inch MyFord Touch display and the instrument-panel-mounted 4.2-inch display. Phone and communications functions always are presented with an orange background, navigation with a green background, climate control with a blue background and audio/entertainment functions with a red background.

SYNC – behind the scenes
Behind the displays of MyFord Touch driver connect technology, the next generation of Ford's award-winning SYNC system runs the show, built using the Microsoft Windows Embedded Auto software platform.

SYNC has evolved from a standalone module providing voice-activated control for mobile devices to a fully integrated platform for Ford vehicles with MyFord – a technology that will become the global interior architecture for all future Ford products.

"With more than a million SYNC-equipped cars on the road already, it's exciting to see Ford continue to push the envelope and explore new applications for Microsoft's Windows Embedded automotive software," said Kevin Dallas, general manager for Microsoft's Windows Embedded Business division. "The car is returning to the place where consumers go to see high tech innovation."

Features available through MyFord Touch, powered by SYNC include:
Media Hub
Additional USB port for a total of two USB 2.0 inputs
SD Card slot
RCA A/V input jacks

Internet Connectivity
Full WiFi capability including Internet "hot spot" connectivity and a built-in browser for use while in "Park" (late availability)
Integrated browser supports tabbed page navigation, "drag" to pan and scroll and a provides a 3-D carousel for bookmark browsing
Support for on-screen and USB-connected keyboards
RSS feed aggregator and text-to-voice reader
Mobile in-car WiFi "hot spot" capability through USB-installed air card or USB mobile broadband modem

Phone
Phone book contact photo download and 3-D carousel browsing
Birthday reminders
Enhanced error correction and reporting

Voice Recognition
Direct speech commands and "flattened structure" for quicker, more responsive voice control
Voice-command activation of selected climate control functions
Voice commands will be available for most radio functions, including AM/FM, HD RadioTM Technology and SIRIUS/XM® Satellite Radio
SIRIUS Game Finder application will facilitate automatic voice tuning for desired sporting events using commands such as "Tune to Detroit Lions game" or "Show NBA games"

Navigation
Improved visual presentation of SYNC Traffic, Directions & Information app including directional arrows, street names, and distance markers
Map-based navigation app provided by TeleNav via an optional
SD Card
SD Card navigation includes SIRIUS Travel LinkTM services such as weather maps, movie listings, gas prices, and sports scores
SD Card navigation also adds cities point-of-interest information including ratings and amenities
Map data includes 3-D visual landmarks

Climate Control
MyTemp personalization allows the driver to store a preferred temperature, which is then accessible with a single touch of the MyTemp button
Different MyTemp settings can be programmed to different keys; multiple drivers in a household can each have unique MyTemp settings

Audio
AM/FM/CD, SIRIUS/XM satellite radio, USB-connected MP3 players and memory sticks
New HD Radio capability
Song tagging capability via HD Radio Technology, allowing listeners to identify song information and store it for later use
Browse tracks by artist, scan lists of tracks with identical names, and browse through devices without having to change audio sources
3-D carousel album cover art and photo viewing displays allow easy scanning of available material, especially combined with Gracenote Media Management
Media player equipped with new "Podcast" source category
Enhanced Bluetooth® audio support including metadata, which allows additional command and control functions for capable mobile devices

Vehicle Setting Personalization
Ambient lighting color control using a 3-D carousel browser
Custom welcome messages
Saved and transferrable user profiles that can be ported between Ford vehicles equipped with MyFord
Door keypad code control using on-screen menus
Where available, Active Park Assist and Rear View Camera displays
Image and video uploading via SD card slot or USB 2.0 ports

SYNC Apps
& Services
Traffic, Directions & Information offers personalized traffic reports, turn-by-turn directions, business search, sports, news and weather via SYNC and the user's mobile phone
Downloadable destinations when coupled with the SD card navigation function; SYNC Service Delivery Network (SDN) will be able to send a destination directly to the vehicle
Vehicle Health Reports will download service reminders and vehicle information directly to the in-car displays
Improved 911 Assist™ capability with GPS location can call for help in the event of an air bag deployment

Flexible, upgradable and ready for global deployment
Built using the latest technology from the Windows Embedded Business at Microsoft, the second generation of SYNC has been designed from the outset to be expandable, allowing it to grow and add new features without requiring new hardware. By employing a Media Hub for interfacing with external devices and media, Ford has helped ensure compatibility with future hardware innovations.

"The Media Hub is really the key to SYNC's new upgradability," said User Interface Design Engineer Johnson. "Take navigation: In the past, map data was stored on a hard drive and updates took hours to load from DVD. With SYNC and MyFord Touch, if you need a map update, you take the old SD card out of the Media Hub and pop in a new one.

"It'll be the first time an automaker will offer something that competes with the cost and ease of personal navigation devices," he added.

The system also has been configured for global deployment from the start, using one hardware package in all regions worldwide. The identical global SYNC hardware will be outfitted with branding, languages and regionally appropriate applications while the host vehicle is on the assembly line, all using WiFi technology.

MyFord technology will not be exclusive to high-end products. As new and refreshed Ford, Lincoln, and Mercury models continue to arrive on the world stage, all will be outfitted with an implementation of MyFord driver connect technology.

"MyFord will become part of the global DNA of Ford products," said Kuzak. "Across different models, different trim levels, even different countries, drivers immediately will know they're behind the wheel of a Ford vehicle equipped with the technology, safety and convenience features they expect."
MyFord Touch Makes Easy Vehicle
Personalization a Reality

LAS vegas, Jan. 7, 2010 – One of the biggest strengths of MyFord Touch, Ford's new driver interface, rests with the driver's ability to personalize the gauges, vehicle settings and information displays.

"The display personalization options in MyFord Touch are a perfect example of how Ford is empowering drivers without demanding their attention," said John Schneider, chief engineer, HMI, Driver Controls and Infotainment. "Drivers don't have to use the personalization features, but there are a wealth of options available to those who do. We've made it easy for drivers to get what they want from their displays from the moment the key is turned."

MyFord Touch makes personalization at the touch of a button intuitive by using five-way controls on the steering wheel for most functions.
The buttons are easily controlled by a driver's thumbs and work in the same fashion as similar controls on common mobile phones, MP3 players and remote controls, providing customers instant familiarity.

Along with personalization, the portability of display settings is engineered into MyFord. Selected user settings can be programmed to individual vehicle keys. This allows two members of the same household to share a car, allowing each to have personalized settings take effect with his or her unique key. Settings also can be downloaded to a USB drive and exported to another MyFord-equipped vehicle, instantly transferring the driver's preferences.

Home screen display
The 8-inch touch screen that forms the heart of MyFord Touch can be personalized using one of three available options:
Quiet: Basic information is shown nested in the four corners, but the majority of the screen is devoted to a driver-selected "wallpaper" image
Smart Corners: Predetermined buttons with the most popular top level functions are displayed in each of the quadrants
Shortcuts: The screen is populated with driver-selected "hot buttons" that are fully personalized, and can include hot buttons from nearly any controllable function in the system

Because a couple sharing a car may have two very different preferences in the amount of information MyFord delivers, the system also incorporates programmable keys. This helps ensure each partner will get their particular home screen – and their particular MyFord experience – when they enter the car with their unique key.

Regardless of personalization level, the four main function corners and their respective colors remain the same, helping drivers intuitively navigate the vehicle systems when they need to.

One-touch climate control
One of the most common in-car adjustments – setting the driver's temperature – can be reduced to a single button push using the MyTemp feature.

Once a driver saves a temperature using MyTemp, any subsequent touch of the MyTemp button will automatically change to this set temperature. If other drivers have used the vehicle and adjusted settings, the driver can quickly and conveniently return to his or her preferred setting by touching the MyTemp button.

Temperature settings also can be stored on multiple drivers' unique keys as part of MyFord's personalization features.

Left instrument panel screen vehicle personalization options
Vehicle information is presented in a 4.2-inch full-color LCD to the left of the centrally mounted speedometer. The display is controlled using a cell phone-style five-way button located on the left side of the steering wheel crossbar, allowing drivers to intuitively access vehicle functions without having to reach for a dash-mounted switch or remove their hands from the wheel.

Driver assist settings
Traction control on/off
Blind Spot Information System (BLIS®) on/off
Cross Traffic Alert on/off
Cruise control, adaptive or normal
Front Park Assist on/off
Rear Park Assist on/off
Trailer Sway Control on/off

Vehicle settings
Autolamp delay in seconds
Fuel, distance-to-empty and
real-time economy
Locks, autolock and auto-unlock
Menu control, standard or memory
Power liftgate, enable/disable

Remote start climate control
activation settings
Remote start run-time duration
Windows, remote open/close
Wipers, courtesy wipe and rain-sensing wiper on/off

Display
Gauge display with tachometer; tach and fuel level; or tach, fuel level and water temperature
Trip display
Language (English, French, Spanish)
Distance, miles or kilometers; temperature, degrees in F or C

Within many of the menus are additional submenus allowing drivers to further personalize their in-car experience. For example, within the remote start menu, the driver can program the system to activate the air conditioning using the climate control submenu and to turn the car off after 10 minutes using the duration submenu.

"Using simple, intuitive controls, MyFord brings the personalization consumers expect from their mobile electronic devices into the realm of the automobile," Schneider said.
FORD INTRODUCES SIGNATURE INTERIOR EXPERIENCE: myford TOUCH DRIVER CONNECT TECHNOLOGY

New MyFord™ driver connect technology blends Ford signature in-vehicle features
into a cohesive experience, featuring intuitive controls, more voice activation and
interface personalization

MyFord Touch™ interface includes dual 4.2-inch LCD screens with corresponding
five-way button steering wheel controls and an 8-inch touch screen all controlled by simplified SYNC® voice commands

Intuitive driver connect technology provides access to ever-expanding in-vehicle functionality while minimizing driver distraction and improving interior aesthetics

MyFord driver connect technology launches this year on 2011 Ford Edge and goes global with availability on 2012 Ford Focus. MyLincoln Touch will be standard equipment on
new Lincolns beginning with 2011 Lincoln MKX

LAS vegas, Jan. 7, 2010 – Ford introduced a smarter, safer, simpler system to connect drivers with in-car technologies and their digital lives today at the 2010 International Consumer Electronics Show (CES).

Building on its leadership with the award-winning SYNC device connectivity system, Ford has combined a variety of technologies into one powerful, intuitive connected driver experience called MyFord, which will begin rolling out on vehicles this year.

"MyFord delivers a premium interior experience that will help consumers fall in love with their vehicles again," said Derrick Kuzak, Ford group vice president, Global Product Development. "It integrates all our signature features so customers will know exactly what they're going to get in any Ford vehicle they may find themselves driving, no matter where they are in the world."

This new in-vehicle connectivity experience replaces many of the traditional vehicle buttons, knobs and gauges. With more voice commands, clear, crisp LCD screens that can be customized and five-way buttons like those on cell phones and MP3 players, drivers can choose which information is front and center through a button click, voice command or touch-screen tap.

Driven by trends
Ford decided to undertake a sweeping and ambitious redesign of the automotive interface after studying consumer electronics trends and the many new ways in which drivers were using technology inside their Ford vehicles.

Recent years have seen a massive expansion in the variety of in-car communications, navigation and infotainment technologies consumers regularly use. The expectations of average drivers have outgrown the traditional "button/knob/gauge" interface used in cars for the past 100 years, as most consumer and household electronics have moved to colorful digital displays and multi-function touch-sensitive buttons.

Consumers are insisting on simpler interfaces even as they're demanding more in-car connectivity, more options and more information – a dilemma known as "simplexity." Plus, the pace of advancement is expected to continue unabated, posing a new opportunity for drivers and engineers alike.

"As we began developing MyFord's capability, we saw this groundswell of new technology, new functionality and incredible capability opening up to consumers," said Mark Fields, Ford's president of The Americas. "It was readily apparent that unless we devised an intuitive interface to help drivers manage these capabilities, they could detract – and possibly distract – from the driving experience."
For example, prior to SYNC, drivers often were required to either leave behind their communications, digital information and favorite music while on the road or split their attention between driving and selecting songs, making phone calls or using the navigation system.

Influenced – and powered – by SYNC
When launched, Ford SYNC, developed with Microsoft, helped provide a seamless transition – and seamless flow of information and entertainment – from the moment drivers entered their vehicles to the moment they got out. As Ford began to develop additional SYNC capabilities and add other signature content, the company realized it was redefining the interior environment and ownership experience.

"With MyFord driver connect technology, we realized we weren't necessarily competing with other automakers, but we were really redefining how customers interacted with their cars," said Jim Buczkowski, Ford director of Electronics and Electrical Systems Engineering. "We had to look very closely at the evolution of hand-held devices in terms of user interface, connectivity, productivity and entertainment applications. Our goal is to set the benchmark for the automotive user interface, just as we've done for device connectivity with SYNC."

Accommodating all types of drivers, all types of vehicles
In the initial planning stages of redesigning the interior experience, Ford collaborated with IDEO, a world leader in helping consumers connect with technology. As a result, the company identified four key attributes of successful interfaces:
Be attentive: Use controls, screens and other interfaces with which most users already are comfortable and familiar.
Be approachable: Create an attractive environment with rich graphics, vibrant colors and buttons/screens that are appealing to the eye and the touch, and consistent with what consumers expect from certain functions.
Be clear: Rather than an imposing cluster of buttons, switches and dials, create a clean-looking interface, with controls that fall readily to hand and displays that are exactly where users expect to find them. Provide maximum control without the driver's hands ever leaving the steering wheel.
Be connected: For technophiles? Let drivers display all the information they want in the way they want it. For technophobes? Make sure basic controls, like radio and HVAC settings, still are accessible via familiar stack-mounted controls, so users don't have to learn a host of new commands to operate the vehicle.

"The driving experience is not just about getting from A to B," explained J Mays, Ford group vice president of Design. "It's about the approach to the car, how it responds to you when you get in, and how it responds to you while you drive. It's the anticipation, the welcome and the continuing conversation. Keeping these principles in mind helped us ensure we made decisions for the right reasons."

A global future for MyFord driver connect technology
As a signature offering, and one with the potential to help reduce driver distraction, Ford knew widely offering MyFord driver connect technology was a priority from the start.

"Democratization of technology is a key aspect of our product plan," Kuzak said. "With MyFord, we didn't want to create an upscale electronics package and just put it on our highest-end vehicles. This technology will be available across our full range of vehicles: From our affordable small cars to the ultimate Lincoln, we're going to make a premium, appealing and intuitive experience available to everyone."

MyFord also will be expanded across world markets. As new and refreshed models continue to arrive, nearly all Ford passenger vehicles will be outfitted with MyFord driver connect technology. There will be minor variations across car lines, but the interface will be instantly recognizable in Ford vehicles around the globe.

MyFord will arrive later this year on the redesigned 2011 Ford Edge and Lincoln MKX crossovers, before appearing on the all-new 2012 Ford Focus for global markets. By 2015, approximately 80 percent of Ford's North American models are expected to have MyFord driver connect technology, with similar percentages predicted for the world market.

"We've developed an environment that will make every Ford vehicle feel like a Ford," said Kuzak. "Across the country, across the globe, all of our products will have the same type of feel, making them instantly comfortable to the drivers who know and love them, and MyFord will become a key part of the joy of owning and driving a Ford product."
Ford Makes Navigation Standard
On Myford, Sync-Equipped Vehicles

LAS vegas, Jan. 7, 2010 – Ford Motor Company is the first automaker to launch an affordable navigation system that competes with the ease and upgradability of hand-held navigation devices.

Starting in 2010, a convenient, upgradable Secure Digital (SD) card-based navigation system requiring no expensive hardware or "head unit" electronics upgrades will be available for all Ford vehicles equipped with MyFord Touch. Turn-by-turn directions with generic display icons and voice guidance will be standard on all Ford vehicles with MyFord and SYNC, using the existing Traffic, Directions & Information application.

The new system marks the first time that an automaker has offered a system that competes with the ease of use and upgradability of hand-held navigation devices, without requiring the purchase of an expensive navigation system upgrade.

Map-based SD card navigation builds upon SYNC with Traffic, Directions and Information. The current system leverages industry-leading voice-recognition software, integrated GPS technology and a Bluetooth®-capable mobile phone to deliver personalized traffic reports, precise turn-by-turn directions and up-to-date information including business listings, news, sports and weather – without the need for a built-in navigation system.

Beginning with the Lincoln MKX crossover and its MyLincoln Touch system, which will be revealed at the North American International Auto Show next week, MyFord will begin to migrate across the company's full product portfolio.

"Navigation systems have moved to the realm of automotive features consumers expect to find," said Derrick Kuzak, Ford group vice president, Global Product Development. "Harnessing the power of SYNC and the flexibility of our new MyFord system, we're bringing an affordable, accessible, easy-to-update navigation system to millions of new consumers."

The move will eliminate the need for expensive optional factory navigation systems, as well as "stick-on" aftermarket units that don't integrate well with vehicle interiors and can prove to be distracting.

Two levels of navigation
All Ford vehicles with SYNC will have turn-by-turn directions available via the Traffic, Directions & Information application enabled by the user's mobile phone. The addition of MyFord and MyFord Touch driver connect technology brings a new visual element to the basic navigation system, thanks to the display capabilities built in to the systems.

MyFord gives drivers two 4.2-inch full-color LCD screens, one in the instrument panel and another in the center stack.
The MyFord Touch system brings two 4.2-inch LCD screens into the instrument panel and places an 8-inch touch screen in the center stack. Using the Traffic, Directions & Information application, either version of MyFord will be able to display turn arrows, street names and distance-to-turn information.

"The MyFord displays really bring turn-by-turn directions alive for the first time," said Jim Buczkowski, Ford director of Electronics and Electrical Systems Engineering. "Instead of just a voice telling drivers where to turn, there will now be visual cues in the form of street names, directional arrows and distance markers integrated right into the MyFord instrument cluster display."

Vehicles equipped with the upgraded MyFord Touch system already will have an 8-inch touch-screen display built into the center stack, which also is capable of displaying basic turn-by-turn direction information. SD card navigation, supplied by TeleNav, will be available as an option for the MyFord Touch system, activated by inserting the SD card in to the system's built-in Media Hub. The SD card will contain the map database and voice data, 3D map graphics and enhanced point-of-interest (POI) information from Wcities.

"Storing navigation information on an SD card installed in the Media Hub will be simpler and less expensive for customers and suppliers alike," said Jason Johnson, Ford user interface design engineer. "In the past, map data were stored on a hard drive and updates took a significant amount of time to load from DVD. To get a map update with MyFord, you simply take the old SD card out of the Media Hub and pop in a new one. It will be the first time an automaker will offer something that competes with personal navigation devices."

Lowering costs while expanding accessibility
Because the navigation system is simply an application that runs on SYNC, the map database and POI information can be contained on a relatively inexpensive SD card. This new capability eliminates the costs of an internal hard drive storage system and DVD player for map updates.

"When we designed MyFord one of our driving principles was the democratization of technology," said Kuzak. "Navigation doesn't have to be a high-end luxury product. With MyFord, it will be standard on almost every Ford vehicle worldwide, and we believe it will help more people look forward to spending time behind the wheel of our vehicles."