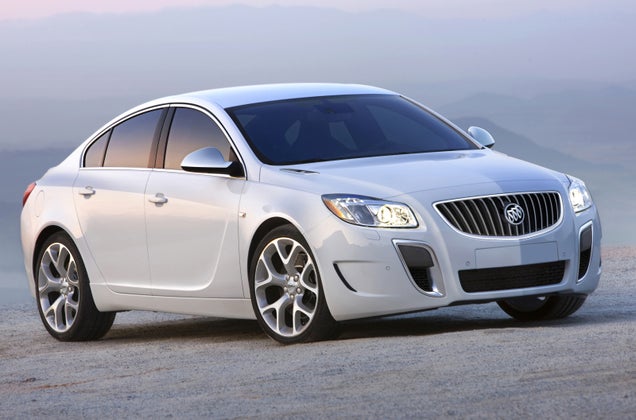 S
Say hello to the Buick Regal GS Show Car, or "Show Car," as it's a look at the 255HP, high-pressure turbocharged, direct-injected four-cylinder, all-wheel-drive, six-speed manual Buick Regal GS absolutely everyone is expecting GM to build.

From the second we knew GM was going to revive the Buick Regal nameplate, it was impossible not to imagine the high-performance models coming back as well. While a GNX seems a stretch for a front-wheel-drive platform, the Regal GS show car is entirely within the realm of all that is good and pure. It looks like an Opel Insignia OPC with a new grille, and in many aspects it is, except for one very important distinction. Where the OPC has an upgraded 325 HP version of the 2.8-liter turbocharged V6 from the Saab Turbo X, this one has sticks to GM's pledge of an all four-cylinder lineup in the Regal with a 255 HP, 295 lb-ft, turbocharged direct-injection 2.0-liter Ecotec four.
Interesting.
The high-pressure version of the motor in the GS bests the uplevel turbo-four in the Regal which packs 220 HP and 258 lb-ft of torque but you also get the sweet Haldex all-wheel-drive system, the six-speed manual transmission, the Hiperstrut suspension, giant Brembo brakes, and a dead sexy upgrade to the aesthetics. So here we have a quandry. This GS has the driveline bits and body upgrades of the slick European OPC/VXR, but less power... but undoubtedly less weight. It's a bit of looking the gift horse in the mouth, as we'll take a sexy, fast, Buick any way we can. Well, assuming GM makes it (which they probably will).
BUICK UNVEILS REGAL GS SHOW CAR
-21st-century successor to Buick's Gran Sport heritage
—Bold, sporty design with unique exterior details and an aggressive stance
-High-output Ecotec 2.0L turbocharged engine and six-speed manual transmission
-Adaptive all-wheel-drive system and electronic limited-slip rear differential
-0-60 in less than 6.0 seconds
-Buick's class-exclusive Interactive Drive Control System

DETROIT – With an estimated 255 turbocharged horsepower (190 kW), a six-speed manual transmission and an advanced, adaptive all-wheel-drive system, the Buick Regal GS show car is a high-tech, high-performance version of the brand's newest sport sedan. It was introduced at the 2010 North American International Auto Show.

The mechanical elements were developed with the aim of delivering a driving experience that is sporting, confidence-inspiring and refined. It has a performance-oriented drivetrain, a lowered body and lower center of gravity. Exterior and interior cues include two additional vertical front air intakes; large, forged aluminum 20-inch wheels and performance tires; a racing-inspired sport steering wheel and metal pedals. Recaro high-performance front seats feature four-way lumbar support and cushion extensions.

"We designed the Regal GS to explore the appeal of a high-performance variant of the Regal," said Craig Bierley, product marketing director for Buick. "Like the Regal, the Regal GS is based on the award-winning Opel Insignia, and we believe it will reinvigorate Buick's storied Gran Sport legacy."

The Regal GS exterior is distinguished by vertical air inlets in the front fascia, as well as unique rocker panels, an integrated rear spoiler, dual exhaust outlets, Olympic White paint and satin metallic accents.

"The idea behind the Regal GS was taking the production model in a more aggressive direction to appeal to performance enthusiasts," said John Cafaro, Buick design director. "But along with its aggressive stance, there's sophisticated style in the design that complements the driving experience."

Inside, the Regal GS varies from the standard Regal by featuring a completely jet black interior, including the pillars and headliner, sport shifter for the six-speed manual transmission and a suede-covered, flat-bottom steering wheel reminiscent of those used in international racing series. The instrument panel glows ice blue when the driver engages the sport mode of the Interactive Drive Control System (IDCS).

Turbocharged AWD performance
Power for the Regal GS comes from a high-output 2.0L Ecotec turbocharged engine with direct-injection technology. It is based on the engine that will be offered on Regal CXL models later this summer, but the engine and turbocharger are tuned to deliver greater boost pressure in the GS. The output is estimated at 255 horsepower (190 kW) and 295 lb.-ft. of torque (400 Nm).

The engine is mated to a six-speed manual transmission that directs torque to an adaptive all-wheel-drive system calibrated for performance driving. An electronic, limited-slip rear differential helps ensure the engine's power is distributed effectively during cornering.

The high-performance drivetrain is expected to enable the Regal GS to accelerate from 0 to 60 mph in less than 6 seconds. That performance is complemented by a four-wheel-independent suspension, with a unique High Performance Strut (HiPerStrut) design in front. The HiPerStrut system helps reduce torque steer and maintain negative camber during cornering. This improves ultimate grip levels in dry and wet conditions, as well as improves the direct feel of the road, while isolating undesirable feedback. Behind the wheel the driver experiences reduced torque steer, improved grip and increased cornering power, along with crisper handling, steering precision and feedback.

The Regal GS features a high-performance Brembo brake system with 14 x 1.2-inch (355 x 32 mm) cross-drilled rotors; four-piston, high-strength aluminum calipers, and high-performance pads.

The Regal GS is also equipped with Interactive Drive Control System (IDCS) chassis technology (also offered on Regal CXL models with the 2.0L turbo engine). It delivers enhanced vehicle stability and greater driving safety, while also adapting the driving characteristics of the car to the driver's preferences. The driver selects among three operating modes – normal, sport and GS – that change the suspension settings, throttle response, shift pattern and steering sensitivity through the variable-effort steering system.
S