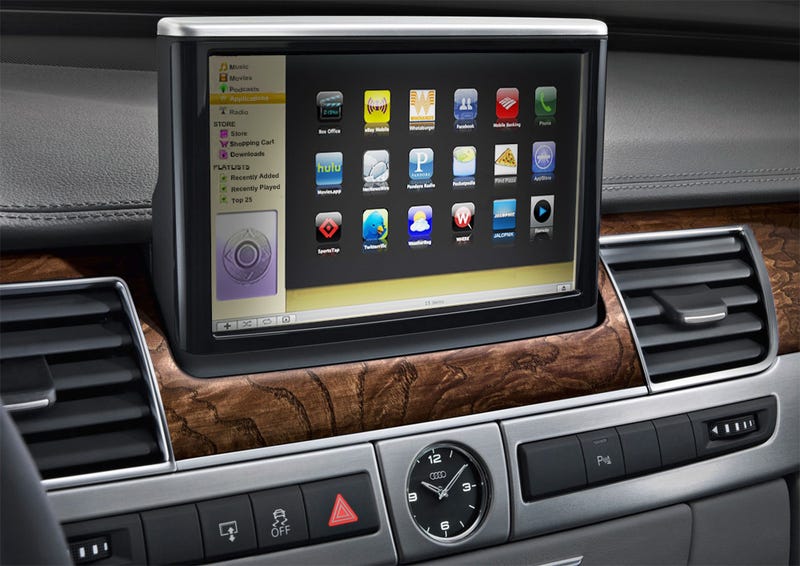 Within the next couple years your car will come equipped with an "application store" where you'll download apps to tweet your car's performance, check your emissions and order a hamburger. Below, the first 20 apps you'll download to your car.
This isn't far off science fiction as most of the technology already exists today. The modern car is a bundle of sensors with 60-to-70 electronic control units (ECUs) monitoring approximately 80,000 data points and linked through an in-car network connected to a main engine control unit. This data is already being monitored by automakers with systems like GM's OnStar and Mercedes' mbrace systems.
"[T]he concept of a connected car, a car as a mobile edge device, is one that's time has come," Erik Goldman, President of Hughes Telematics, responsible for designing the mbrace system, told us in an interview. "It's a legitimate vision and all the right pieces are in place."
The biggest pieces, technologically, are the embedded communications system and the link to the car's on-board network, both of which already exist but in an incredibly underutilized form. The next piece is a way to interface with an in-car "app store," and on-board touch screen and voice-recognition systems have advanced to this point already. The last piece is automaker willingness, so all of the future "apps" rely on companies encouraged to implement them.
Click on any of the images to see the first twenty possible apps we think you might download, what they'll do, and how far off they may be. All of these are based on current popular apps, industry trends, concept cars, and discussions with developers and therefore subject to change.
20. Find-Me-Pizza App
What It'll Do: Hungry for a slice? Just tell your car and it'll spit back the wait time for pizza at certain establishments, access coupons, read menus and order your pizza all using your voice without touching a button.
How It Works: Using services like OpenTable and Yelp, as well as GPS and Internet search, the system determines what the nearest pizza restaurants are and aggregates online data about the establishments. More restaurants are offering online ordering, this would plug into that system.
How Far Away It Is: Less than two years; Audi is already combining many of these services into their new Google-powered MMI.