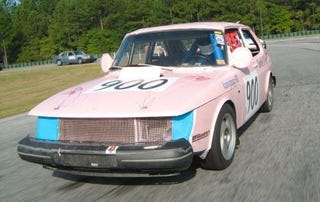 Geo… Oldsmobile… Saturn… Pontiac… and now the Saab marque has landed on The General's Death Row. But don't worry- that won't stop the scary-ass Saab zealots devoted Saab aficionados who race at the 24 Hours Of LeMons!
For the most part, racing a $500 Saab means spending a lot of time with the wrenches, bonding with one's teammates in a character-building exercise. If you can keep one running, it will get around the track in a hurry, though.


That's the great thing about the LeMons Saab racers; they'll do whatever it takes to keep their Swedish machines on the track, even if it means cannibalizing their daily drivers for parts (as happened at the "Demolition Derby LeMons" at Altamont in '07).