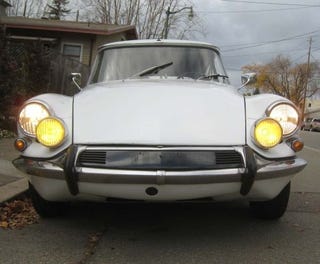 Welcome to Down On The Street, where we admire old vehicles found parked on the streets of the Island That Rust Forgot: Alameda, California. Here's the fourth Citroën I've discovered parked on the island's streets!
I also had the opportunity to witness Citroën's legendary self-jacking feature. You just place the jackstand in the slot appropriate to the wheel you wish to replace, flip a lever, and the car does the rest.


Even Charles de Gaulle could (and did) fit in the DS's luxurious back seat! In fact, de Gaulle credited the DS with saving his life during a machine-gun assassination attempt in 1962; the DS was able to escape even with two tires shot out.