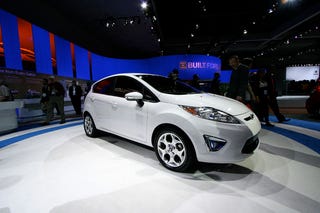 What made the 2009 LA Auto Show a big deal? Small cars. The onslaught of big SUVs and green marketing seems to have passed. The full wrap-up of the 2009 LA Auto Show is a click away.
The fact is, even at last year's LA Auto Show, SUVs, large cars and crossovers were still the money-honeys of the car marketplace — and anything green was for mass marketing not the mass market. This year, however, automakers are thinking big by thinking small. The big reveals were two door or compact four-doors. Maybe the Carpocalypse wasn't about the death of the auto industry or the internal combustion engine, but rather about living within one's means. That said, here's the whole show in one shot.
Cadillac CTS Coupe Very Very Point In Person
Yep, the Cadillac CTS Coupe is real, and it's also really pointy. We can't wait for a version ending in V.