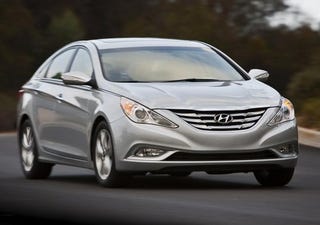 Seeing the four-banger-only 2011 Hyundai Sonata in person, it looks sleek and stylish and beautifully detailed. However, in these press images, it looks awkward and lumpy. We can't figure out why.
[gallery 5416566]You'll have to take our word for it, the 2011 Sonata is a good looking car. No, we were not drunk when we saw it. As far as we could tell, Hyundai wasn't piping psychoactive drugs into the presentation hall via the air ducts to influence our opinion. For whatever reason, the car looks goofy in every single one of the press shots. Very unfortunate. In any case, the Sonata is a dramatic departure from the rather staid Sonata currently on the market. Hyundai calls the styling "Fluidic Sculpture," and it results in high-relief sheet metal sculpting with crisp character lines.

The what's most impressive when examining the car close-up is the attention to detail and the panel fitment. This is a car which speaks volumes of the foundational improvements underway at Hyundai for almost a decade now. There's nothing on the inside or the outside that makes you crinkle your nose and think "Boy, that's cheap." It's a car planted firmly in the meat of the midsize family sedan market, and makes a strong case at vying for the best buy in the segment.
So what's it got. Well, at launch the car is planned with just one engine, the new Theta II 2.4-liter gasoline direct injection four cylinder. It'll make 198 or 200 HP at 6,300 RPM depending on dual exhaust option and 186 lb-ft of torque at 4,250 RPM. The California PZEV version gets slightly boned with 190 HP. Hyundai is sheepish about admitting to a V6 being in the works, but the engine bay is clearly big enough for one as well having plenty of room for a more-than-likely forthcoming hybrid version. You'll get your choice of a six-speed manual transmission or an all-new six speed SHIFTRONIC automatic which comes with paddle shifters. That new auto is quite a piece too, weighing 26.4 pounds less and carrying 62 fewer parts than the outgoing unit. The engine-trans combo will return fuel economy in the range 23/34 MPG city/highway for the manual and, get this, 23/35 MPG for the automatic.
Suspension is a standard McPherson strut front and a multilink rear suspension, coil springs and sta-bars all around. The car also has standard electronic power assist steering, stability control, ABS and all those other nanny acronyms we've become accustomed to. The Sport model interestingly isn't available with the manual transmission, but it does get stiffened springs and anti-roll bars, more aggressive dampers, and 18 inch wheels shod in performance oriented tires.

Inside is perhaps the most compelling part of the new Sonata. It's a surprisingly nice, comfortable, roomy place to exist. Rear leg room is improved and despite the swooping new roofline head room has not changed as Hyundai's lowered to hip point to accommodate taller individuals. Materials throughout are soft touch and nicely textured. The instrument panel is quite lovely and has styling cues found in much more expensive cars. The new Sonata's got a very nice and usable infotainment screen with controls we've seen in Infiniti's but actually executed better. This is the first vehicle Hyundai is debuting their new premium Dimension audio venture. It lies between the uplevel audio system and the top-shelf Infiniti system. Hyundai's also gone to a Volvo-like HVAC control scheme with a stylized central seat icon serving as a control button. Everything's well laid out, crisp and usable, and most importantly comfortable without being overbearing.

You'll just have to believe us when we say it does look pretty good, and we expect to see a pretty intense dogfight between the new Sonata and the MaliCamCord.
THE 2011 SONATA: THE NEW STANDARD FOR MIDSIZE SEDANS

Sonata Injects Emotion, Advanced Powertrains and Superior Quality into Bland Segment

LOS ANGELES, Dec. 2, 2009 – Hyundai today introduced its all-new 2011 Sonata at the
Los Angeles Auto Show. This marks the North American debut of the latest version of the popular midsize sedan, introducing Hyundai's "Fluidic Sculpture" design language and an all four-cylinder engine lineup to the U.S. market.

-All-new sixth generation Sonata midsize sedan
-Fluidic Sculpture design
-All four-cylinder engine lineup
-Launches with new Theta II 2.4-liter gasoline direct injection (GDI) engine and in-house six-speed automatic transmission
-Class leading fuel economy of 23 mpg city/35 mpg highway*
-Class leading 198 horsepower standard* (200 horsepower on SE trim*)
-2.0-liter Theta II turbocharged GDI four-cylinder engine and Hybrid Blue Drive models to debut by 2010 year-end
-Production begins at Hyundai Motor Manufacturing Alabama in December with retail sales beginning in January
-XM Satellite Radio™, real-time XM NavTraffic, XM Data Services, HD Radio Technology™, Bluetooth®, Touch-screen navigation and iPod®/USB

Sonata is the second vehicle in Hyundai's 24/7 version 2.0 product initiative (seven new models in the next 24 months) following on the heels of the all-new Tucson. Production of Sonata will begin later this month at Hyundai's U.S. plant in Alabama with retail sales beginning in January.
The 2011 Sonata represents a modern approach to the traditional midsize sedan segment by using only advanced four-cylinder engines, emotional design and luxury features offered with Hyundai's strong value proposition. The 2011 Sonata poses some intriguing questions:

-Why can't a smart, solid sedan also have modern, sleek, sophisticated style?
-Why pay so much to get a taste of luxury?
-Why can't an efficient four-cylinder engine give V6 power?

FLUIDIC SCULPTURE DESIGN LANGUAGE

Beginning with the 2011 Sonata and 2010 Tucson projects, Hyundai designers set to work about three and half years ago on Fluidic Sculpture. Fluidic Sculpture is a consistent, cohesive design language that will ripple through the entire Hyundai showroom. In developing the initial Sonata sketches, Hyundai designers considered the interplay of natural, fluid elements with more rigid surfaces and structures to create the illusion of constant motion. Inspired by nature, Fluidic Sculpture injects sophistication and dynamic angles into the shape of a vehicle and now serves as the core of Hyundai's future design identity.
The exterior of the all-new Sonata is long, light and low. The high beltline allows for a long, sleek roofline accented by the third window. A monoform side profile includes flowing lines highlighted by a Hyundai signature chrome accent that spans the length of the car. Normally, this type of trim is only found around the windows. On the new Sonata, this trim extends out from the headlamps, juts up along the hood and through the beltline. The face is bold
with a large powerful chrome grille and headlamps that integrate precise details. The stance is completed by 16-, 17- or 18-inch multi-spoke wheels.
The sophisticated look continues inside where Hyundai has created an upscale ambiance thanks to a flow-through center console and instrument panel. These flowing surfaces complement the exterior design and wrap around the driver and passengers.

SIX-SPEED AUTOMATIC AND MANUAL TRANSMISSIONS
Hyundai's commitment to making the Sonata extremely fuel efficient continues with a six-speed automatic transmission with SHIFTRONIC manual control or a standard six-speed manual transaxle.
Hyundai's all-new six-speed automatic A6MF2 transaxle helps the company meet its goals of improving fuel efficiency and reducing emissions. Shifts are silky-smooth with an option of manual control through the SHIFTRONIC feature.
Drivers can access the SHIFTRONIC feature by moving the gear selector into a separate gate. Pushing the selector forward or pulling it rearward will shift the transmission up or down sequentially, adding to driver control. The SE trim will also feature steering wheel-mounted paddle shifters. A clear LCD readout on the instrument panel shows the gear being used.
Designed for transverse engine applications in passenger cars and SUVs, the new compact transmission puts Hyundai into an elite class of auto manufacturers who have designed their own proprietary six-speed automatic transmissions. The strength of the design is its unique layout which makes it smaller, more compact and lighter than any other six-speed transmission on the market today.
For the customer, the new six-speed delivers a performance edge. In this application, it helps brings a nine percent gain in fuel economy (35 mpg* versus 32 mpg). The gearbox has no dipstick because it is filled with automatic transmission fluid that is good for the life of the vehicle under normal usage conditions, thereby reducing maintenance costs.
Developed over a four-year period, this new six-speed automatic is 26.4 pounds lighter than the five-speed it replaces. It also is 1.6 inches shorter and considerably simpler, having 62 fewer parts, which is a key to increased durability, lighter weight and lower cost.
When it comes to transmissions, more gears are definitely better. The addition of a sixth gear enables closer spacing between gear ratios providing a better balance of performance and fuel economy while the wide overall gear ratio helps deliver strong acceleration.
The gearbox has three planetary gearsets and a unique flat torque converter that shortens the unit's overall length by 0.47 inches. Four pinion differentials improve durability and further minimize size.
Another example of engineering ingenuity is found in the design of the hydraulic pressure control unit. Slight manufacturing deviations from one solenoid valve to the next often times cause fluctuation in the hydraulic pressure and affect shift precision and quality. The transmission featured in the Sonata cleverly integrates adjustment screws in the valves that enable each of the eight valves to be calibrated at the factory. This feature ensures stable hydraulic pressure at any shift point which facilitates a high degree of precision and control needed to deliver fast, smooth and precise shifts throughout the rpm range.
SUPPLE RIDE, AGILE HANDLING
An advanced four-wheel independent suspension system combines a supple ride with precise handling and steering response for Sonata GLS and Limited models. Sonata uses MacPherson strut front and multi-link rear suspension systems with increased travel for improved wheel control and a smoother ride. All four wheels are controlled by coil springs, fade-resistant gas-charged dampers and stabilizer bars. The suspension has been optimized to keep the vehicle flat during corning and provide quick turn-in response. The rear suspension uses aluminum components to reduce weight and improve suspension performance. The GLS and Limited models also use advanced low-rolling resistance tires to improve fuel economy while maintaining good ride and handling performance.
The Sonata SE is an even more exciting and willing partner for drivers who prefer sportier ride and handling dynamics. The sport-tuned suspension features stiffer springs and larger stabilizer bars, resulting in a 20 percent increase in roll stiffness. Unique SE dampers, including monotube shocks in the rear are used to control the more aggressive suspension. Low profile 18-inch tires round out the unique chassis components of the Sonata SE.
All Sonatas have column-mounted, motor-driven electric power steering that adjusts instantly to changing driving conditions while improving fuel economy over a conventional steering system. A quick-ratio steering rack is used for crisp feel on turn-in. Sonata's turning diameter of 35.8 feet is better than Camry, Accord, Altima, Fusion and Malibu.

WORLD CLASS POWER-TO-WEIGHT RATIO
One of the program targets for the 2011 Sonata engineering team was world-class power-to-weight ratio. Power-to-weight ratio pays dividends in both performance and fuel economy.onata is rich in ultra-high-strength steel, leading to world-class body rigidity. The 2011 Sonata is 25 percent stiffer in torsion and 19 percent stiffer in bending rigidity than its predecessor, yet it is lighter than many midsize sedans, also offering more interior room.
This focus on power-to-weight ratio pays dividends across the board. The Sonata owes its ability to deliver both strong performance and excellent fuel economy in great part to its impressive power-to-weight efficiency.

Advanced Standard Safety Technologies: PART OF HYUNDAI'S ASSURANCE COMMITMENT
Sonata is built from the ground up with safety in mind, with a hot stamped ultra-high-strength steel body structure, advanced airbag technology and Electronic Stability Control (ESC), delivering on Hyundai's commitment to both active and passive safety technology leadership. The prior generation Sonata was the first midsize sedan with standard ESC when it launched in March of 2005. ESC was not standard equipment on Honda Accord until the 2008 model year and the 2010 model year for Toyota Camry. Once again every 2011 Sonata has lifesaving ESC as standard equipment. This is important because the National Highway Traffic Safety Administration (NHTSA) has reported that ESC results in 35 percent fewer single-vehicle crashes and 30 percent fewer single-vehicle fatalities in passenger cars.
The Sonata also features a state-of-the-art braking package. The package includes four-wheel disc brakes and an Anti-Lock Braking System (ABS) including Brake Assist, which provides maximum braking force when a panic stop is detected, and Electronic Brake-force Distribution (EBD) to automatically adjust the braking force to front and rear axles based on the vehicle loading conditions.
Sonata features six airbags-including dual front, front seat-mounted side-impact, and front and rear side curtain airbags-along with active front-seat head restraints. The 2011 Hyundai Sonata is projected to earn the NHTSA's top rating of five-stars for front and side impacts. Other passive safety features include shingle-style rear-seat head restraints for improved visibility, three-point seatbelts for all seating positions, front-seat seatbelt pretensioners and force limiters, and a rear-seat Lower Anchors and Tethers for Children (LATCH) system for child seats.

2011 SONATA OFFERS FOUR UNIQUE AUDIO ENVIRONMENTS
-An AM/FM/XM/CD/MP3 audio system with six speakers comes standard in the Sonata GLS and SE.

-AM/FM/XM/CD/MP3 audio system with touch-screen navigation and Dimension® premium sound with subwoofer and external amplifier is optional on the GLS and SE models.

-The Limited model comes standard with an AM/FM/XM/6-disc CD-changer/MP3 with HD Radio Technology and Dimension premium sound.

-The optional AM/FM/XM/CD/MP3 audio system with touch-screen navigation that includes a 400-watt external amplifier system on the Limited comes with Infinity audio.
DIMENSION AUDIO SYSTEMS
Dimension is a new branded audio system created by Hyundai Mobis and features a Variable Equalizer with normal, dynamic and concert settings. The last generation equalizer provided only one fixed sound field. The new Variable Equalizer, tuned by renowned audiophile Ken Pholmann, is a function for controlling the sound qualities sensed by listeners. For example, Pohlmann added bass response to the concert mode typically not found in other systems.

INFINITY® AUDIO SYSTEM
Audio enthusiasts with even more demanding tastes will be impressed by the AM/FM/XM/DVD/MP3 audio system with touch-screen navigation that includes a 400-watt external amplifier, dedicated Dual Voice Coil (DVC) subwoofer, eight-channels and nine Infinity speakers available on the Limited. Infinity and Hyundai engineers worked together during the early stages of development to integrate the speakers into Sonata's interior. The team spent hundreds of hours fine-tuning the system for the cabin's unique acoustic attributes.

XM, HD RADIo TECHNOLOGY, Bluetooth and Touch-screen navigation DELIVER UNRIVALED MIDSIZE SEDAN technology CHOICES
2011 Sonata comes standard with three months of XM Satellite Radio, real-time XM NavTraffic and XM Data Services
Sonata also will be the first popular midsize sedan to offer the clarity of digital HD Radio Technology from the factory
First vehicle in its class to offer a Bluetooth hands-free phone system standard
Standard auxiliary iPod/USB inputs allow drivers to fully control and charge iPods directly from the head unit