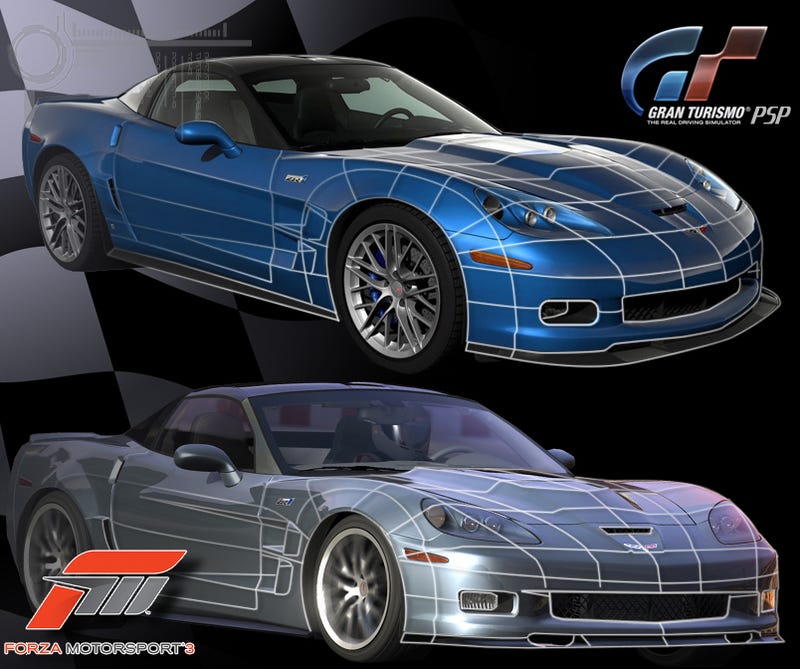 The biggest automotive showdown this year: Forza versus Gran Turismo. Since GT5 will, like, never come out, we've decided to pit the car list from Forza Motorsport 3 against the only other suitable alternative — Gran Turismo for PSP.
Click "next" to see the full comparison between the lists so you can decide which garage full of digital cars you'll want.
Quantity
Advantage: GT for PSP
Reason: GT for PSP has almost double the number of cars as Forza 3, which is an advantage that's hard to ignore consider it's hand-held against big-box. On the other hand, how many versions of the VW Lupo does one person want or need? It's not just about quantity, it's quality, so click through to see how the two face off in important categories.
American Cars
Advantage: Forza 3
Reason: Both games include must-haves like the Buick GNX and Ford GT, but Forza 3 has a special Motorsports Legends Car Pack with the 1969 Dodge Charger, 1965 Shelby Cobra Daytona Coupe, and 1960 Chevrolet Corvette. And even if it didn't, choices for classic American cars like the Ford Mustang are limited to the 2005 GT and 2000 Cobra R according to the GT for PSP list. By comparison, Forza has those cars plus the 1970 Boss 429, 1993 SVT Cobra R and the 2004 Tiger Racing Mustang.