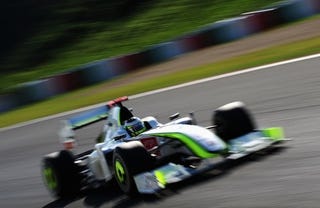 With the wacky 2009 championship down to its antepenultimate race at Suzuka Circuit, Jenson Button's eroding cushion of points was looking increasingly fragile. Rubens Barrichello and Sebastian Vettel smelled blood. Spoilers, shmoilers!
Button went to Japan with a 15-point lead on his teammate Barrichello as Sebastian Vettel—very fast but prone to the errors of the young—looked increasingly less of a credible challenger. Twenty-five points behind with thirty to grab in three races, Red Bull's driver faced an uphill battle.
He began his working weekend by setting pole on Saturday with a time of 1:32.160, 60 milliseconds clear of Toyota's Jarno Trulli, with McLaren's incumbent champion Lewis Hamilton a further 175 milliseconds behind.
Photo Credit: Clive Mason/Getty Images
The legs you are looking at belong to Timo Glock, Jarno Trulli's teammate at Toyota, who finished second at the previous race in Singapore. He injured his left calf in a crash during practice and couldn't drive in the race.