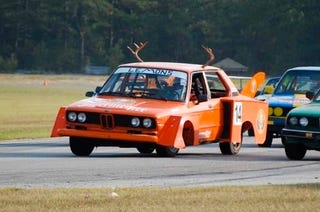 We were a bit shorthanded at LeMons HQ at Carolina Motorsports Park last weekend, so I wasn't able to do the usual Index Of Effluency winner post. Check out the Rusty Bolt Racing E12!
Yes, it's a 1975 BMW 530i done up in Jägermeister Gruppe 5 flares, orange paint, and antlers. Rusty Bolt Racing managed to beat out a pretty tough IOE field, including a Fiat 124 Spider, a Plymouth Acclaim, and a Chrysler Sebring; the car was quite slow, but it kept going around and around and only lost a single wheel flare over the course of the weekend.


I'm proud to say that I had a small role in this triumph; back when the team was still wondering what to do with their newly-obtained bright orange future LeMons car, they emailed me to ask if I thought a Dukes Of Hazzard theme would be a good idea. We've had a few variations on the General Lee in LeMons already (including a Chevy Nova and a Nissan Sentra), so I suggested they keep brainstorming. This fine race car is what they came up with. Good work, Rusty Bolt Racing!


The Organizer's Choice Award went to the Barfing Duck Saturn SL Batmobile. There's quite a story behind this car…


At the LeMons South Spring '09 race, Team Barfing Duck had such a lame theme- some sort of "Driver Ed" thing- that we forced them to Sawzall a spoiler out of their trunk lid. They didn't whine about it, but they also gave no hints about the awesomeness that was to come.