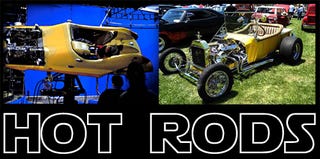 Star Wars! Epic spaceship battles! Space wizards with laser swords! Aliens! Chosen ones! Hot rods! Wait, hot rods? Yes indeed, science fiction's biggest franchise is lightly infused with car culture. Allow us to explain.
George Lucas, Car Guy
We've already shown you George Lucas' USC thesis film A Man And His Car, plus the guy did American Graffiti, for cryin' out loud. His fascination with cars runs deep; that's him riding in the Cobra with Allen Grant at the 1963 Pacific Grand Prix at Laguna Seca. Lucas bummed around racetracks a lot in those days, and apparently worked on the cars as well as filming them. He's said to have worked on pit crews at local tracks, and has claimed he wanted to be a race driver until he crashed his own car, an Autobianchi Bianchina (Fiat 500 variant) in a traffic accident, which is as good an indication as any that he wasn't cut out for the racing life. Luckily for us, it didn't dampen his automotive enthusiasm. After making a movie about cruising, which was chock full of hot rods, he turned his attention to long-ago times in faraway galaxies… and put hot rods there. Let's take a look at his creation through fresh eyes.