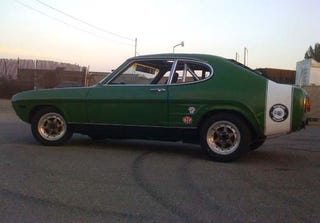 Racers will be on their own when it comes to locating whores and/or poker at the Goin' For Broken 24 Hours Of LeMons, but thrown rods will be provided early and often.
Tech inspections start on Friday at Reno-Fernley Raceway, and racing begins at 11:00 AM Saturday. I'll be there, LeMons Supreme Court Justice Lieberman will be there, some guy from Autoblog will be there, and many of you will be there as well. Let's get a sneak preview of some of the "race cars" we'll have the pleasure of watching shed major engine components on roar around the track:


We're pretty excited about the first-ever Ford/Mercury/whatever Capri to show up to a LeMons event. Our friend Bill, of wrecked MGB-GT fame, is on the team, and their Cologne V6-powered '74 Capri is one of the most unspeakably terrible finest race cars we've ever seen. Not only that, but the team will be racing to raise funds to help a little girl who's battling leukemia. You can sign up to donate a certain amount per lap; we suggest $20 per, because, well, it's a 500-buck Crapi and is nearly certain to might blow up on the track pretty quickly. I don't want to spoil anything here, but word at LeMons HQ is that these dudes are raising the LeMons theme bar with their team costumes.