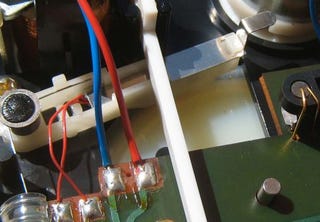 Certain high-end Datsun models of the Late Malaise Era came with a seriously science-fictiony feature: the car talked to you! That's no big deal nowadays- $1.29 worth of silicon- but back then it took hardware.

I'd always assumed that Nissan just liked cool gadgetry so much that they'd gone ahead and used $1,278 worth of first-gen Mesoproterozoic Era solid-state digital audio circuitry, no doubt with a shoebox-sized brain packed with 128 whoppin' kilobytes of data.


But no! They created a miniaturized, shock-resistant phonograph, using a 3" white plastic record cut with six parallel grooves (one for each voice message, including "Left door is open," "Right door is open," "Parking brake is on," "Fuel level is low," "Keys in the ignition," and "Lights are on."), and a super-precise stylus that drops in just the right groove when triggered by the device's control circuitry. We're talking about the very pinnacle of analog automotive devices here, and I never knew it existed until a recent junkyard trip. That's when I found an intriguing box labeled "Audible Warning - Don't Drop" under the dash of a 1982 Datsun 810 Maxima.


The Datsun 810 aka Nissan Maxima and the 280ZX could be purchased with this system. You had a dash switch to disable it, in case you found it more maddening than gratifyingly futuristic.