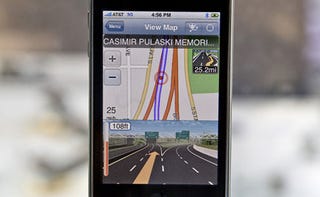 The XROADS G-Map software brings turn-by-turn capabilities to the Apple iPhone, bridging the gap between the device and a typical GPS systems. Does it work?
Our friends at Kicking Tires put the XROADS G-Map iPhone App through the same tests they apply to regular GPS systems and found it to be a capable competitor to the larger, more expensive alternatives.
On the plus side, the App is easy-to-use with good routing and accurate placement. On the negative side, it doesn't have voice turn-by-turn and the maps don't include as many detailed street-level names. Overall, they found the system to work well and, considering it's just $19.99 for the XROADS G-Map App, it's a great value if you've already dropped a few hundred dollars on an iPhone.