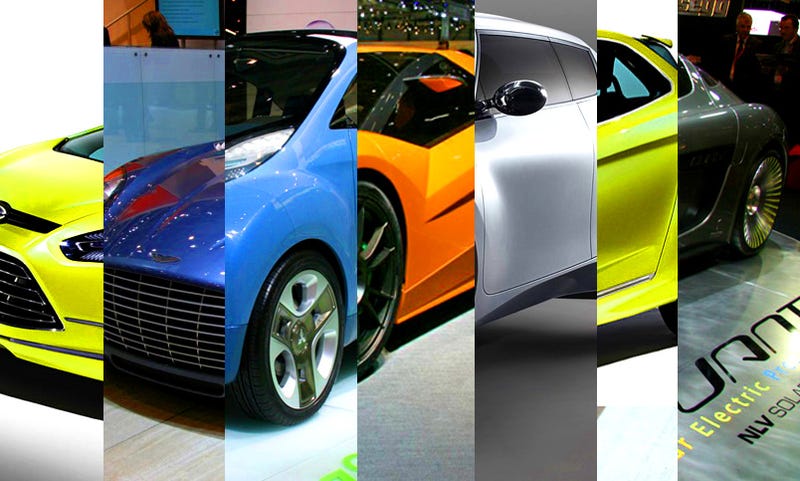 The 2009 Geneva Motor Show's overwhelmed us with hi-tech, futuristic concept cars. Our Swiss friend Gehard the Bookie makes sense of it all by giving us the odds of these rolling testbeds seeing production.
Click On Each Image For Full Information On Each Car

Odds Of Production: 1-to-1
Reason: Essentially the precursor to the next generation Ford Focus, like Yao Ming against Nikoloz Tskitishvili, this one's in the bag. While it may lose some of the more obvious concept car touches, like the full-roof glass and LED-lights, it'll almost certainly carry over the kinetic design-influenced profile.

Odds Of Production: 4-to-1
Reason: Parent company BMW wants to take Rolls Royce to the next level by lowering the entry price. The concept version practically looks like a production car and, given the large 7-Series parts bin available to the company, we expect to see the production version before the next World Cup.

Odds Of Production: 2 to 1
Reason: This Nissan crossover concept is supposed to preview the look of the next generation Micra and, possibly, a Micra-based crossover. The bulging physique may look unrealistic, but you have to remember this is the same company behind the Infiniti FX50.

Odds Of Production: 7-to-1
Reason: The hybrid powertrain and custom Louis Vuitton bags are a little silly, making us doubt production, but it's so stunningly beautiful they're going to have to build it anyways. Given the company's alphanumeric obsession the vehicle will not likely debut as the "essence" anytime soon, but we expect the "essence" of the vehicle to seep into the next generation of Infiniti products.

Odds Of Production: 7.7-to-1
Reason: While some of the finer points, including the hand-crafted aluminum shell, may not make it to the assembly line we think the One-77 is a good preview of the future Aston Martin Vantage. I wouldn't recommend betting against an Aston Martin coupe powered by a V12 mounted up front and painted a variation of green-sliver.