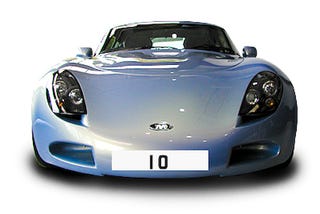 One of the many ways British males compensate for lack of sexual prowess is by purchasing extraordinarily overpriced license plates. This "1 0" plate's expected to set a record, with an auction reserve of £10,000.
Scientists researching the matter hypothesize that the urge to acquire personalized number plates is a mating behavior equivalent to that of the male peacock's display of tail feathers. The larger and brighter the feathers, the more appealing the male peacock is to females.
Since the average British male lacks both feathers and the typical external signs of human male virility: height, a full head of hair, a single chin and a winning smile, he's forced to compete for mates with gratuitous displays of bad taste and a fat credit card.
English numberplates differ from their American cousins, Vanity Plates (which can be commonly spotted adorning the walls of theme restaurants) in that they're sold at auction for huge prices rather than licenses at a token rate on a first-come basis.