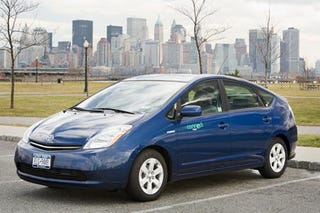 Connect by Hertz, the company's new car-sharing service, lets consumers snag an iPod-enabled, GPS-equipped car for a few hours at a price not increased by typical rental fees. Sound familiar?
The Hertz Connect service, just launched in New York, London and Paris, is strikingly similar to the service offered by Zipcar in those urban areas. Not only does the service offer a variety of cars rented by the day or hour for a small monthly and usage fee, they both use RFID passes to access the cars and neither services charges for gas. Additionally, the Hertz service offers two cars intimately associated with the Zipcar service: the Mini Cooper and the Toyota Prius. The other offering is a Toyota Camry.
Where Hertz differs from the Zipcar service is in the features. Not only are all cars equipped with iPod-ready sound systems, each has the "NeverLost" in-car nav system found on regular Hertz vehicles. Additionally, Hertz representatives can locate, unlock and engage rented vehicles wirelessly. Once a consumer pays the $50 monthly fee they can book a Prius for just $8.50 an hour or $59.50 a day, a Camry for $10.20 an hour/$71.40 a day or a Mini Cooper $11.90 an hour/$83.30 a day. Those are all prices lower than the non-monthly-fee-enabled Zipcar service.
In a pinch you could rent a Prius and power your house. Of course, we're still waiting for the Corvette ZHZ to find its place in the fleet.