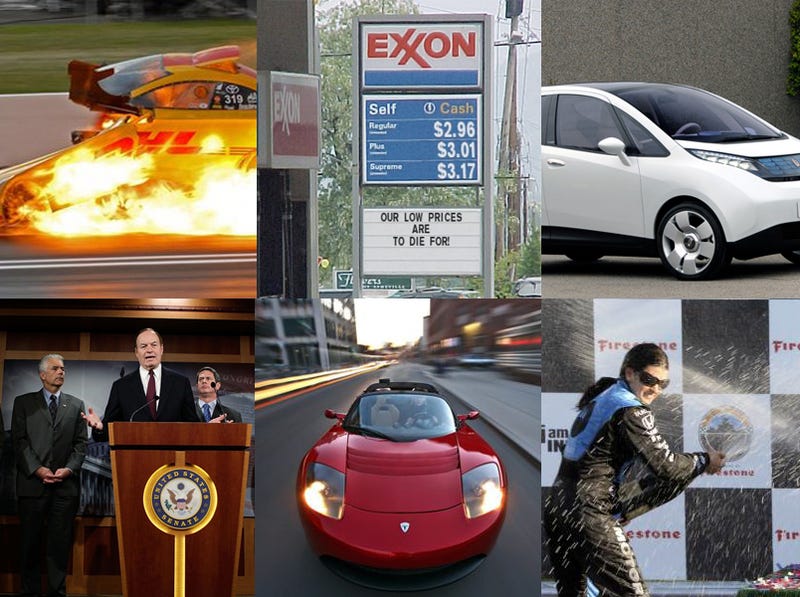 This past year will go down in history as the year when carmaking almost shriveled up and died, but so much more happened. Here's our list of the ten biggest automotive stories of 2008.

We've no doubt 2008 will go down in the books (if they print books in the future) as one of the most important years in automobile history. When selecting the biggest stories of the year we had to ignore our bias towards the most popular and entertaining stories, of which there were many, and focus on what events had the biggest impact on the car industry and culture we cherish. Here they are, from least to most important stories of 2008.
Click On The Images Below To Read The Stories
When British tabloid News Of The World published a video alleging Mosley engaged in sex acts with five prostitutes which, at the very least, were sado-masichistic. At worst, there were suggestions the acts were inspired by a Nazi prison camp (allegations not helped by Mosley clearly speaking in a mock-German accent and the prison uniforms). There were immediately calls for his head, with most observers expecting him to step down or be fired.
It didn't happen. Mosley won a series of court cases against NOTW for defamation after it became clear he was setup, inasmuch as you can setup someone with five prostitutes. Most miraculously, he got to keep his job. Talk about a comeback.

There's still hope for the company. The Pininfarina B0 electric car was a big hit at the Geneva Auto Show and, unlike many of the company's concepts, the vehicle will be a mass-production electric car set to roll of the lines at the end of 2009. Fittingly, the car is dedicated to Andrea.

Toyota may still be king of the green car ring with its offerings, but the return of the Honda Insight will challenge the 2010 Toyota Prius for the title. But don't look now, here come the Chinese.
We've been waiting for the Tesla all-electric Roadster almost as long as the people who plopped down thousands of dollars to own one. After bad transmissions, bad management, bad legal counsel and bad PR, the company has finally gotten cars into the hands of some customers.The car is moving forward — at least when it is moving.
Electric propulsion aside, automakers are still looking for ways to cut down on emissions and fuel usage. Volkswagen has won journalists' hearts and awards with the Jetta and Sportwagen TDI offerings. However, no one yet knows whether Americans will figure out driving oil-burners is actually green.
Ford is betting on EcoBoost, a.k.a. direct-injection and turbocharging, to bring the rest of its fleet up to the higher expectations the American public has for lower consumption. GM hopes to propel sales with the Chevy Cruze, their 45 MPG answer to the question of how to bring MPG to the masses.
We're still waiting to see which of these technologies will break out from the pack, but one thing's for certain, American's want it to be easy for them to buy green — and in the first half of the year at least, they were willing to pay a premium for it.

When gas prices hit $5.40 a gallon in April of 2008 on the California coast we were on the verge of tears. It was so troubling Chrysler tried to sell cars by offering three years of gas at $2.99 a gallon, which seemed like a good offer to some (not so much now). Rather than offering lower price gas we told you how to save gas or, failing that, steal gas.
The Ford F-150 saw its monthly reign as the nation's top seller end at the hands of the Toyota Camry, Toyota Corolla and Honda Civic. People started trading sex for gas and the spike in gas prices and corresponding drop in SUV/Truck sales presaged bad things. It would take an economy-shattering event to reverse the runaway increases in gas prices.

The problems have been around for a while. The domestic automakers were in the process of restructuring when the collapse of the housing market precipitated the partial collapse of the banking industry which caused the economy to accelerate into a recession at the worst possible time for the auto industry. People, worried about their jobs or their homes, stopped buying cars. This hit Ford, GM and Chrysler the hardest because they were already reeling from slumping truck and SUV sales following the increase in gas prices.
On September 30th we reported on how the stock market collapse took GM and Ford stock down to a price per share of $8.51 and $4.17, respectively. In the following months Ford dropped to a low of $1.26 and GM reached as low as $2.79 a share. Car sales, for all automakers, fell off a cliff in October. With it came gas prices, hitting levels we haven't seen in half a decade. All of a sudden a bankruptcy for GM seemed plausible. Then things went even more crazy when Chrysler and GM began merger talks.
Eventually, the not-so-Big Three took to begging Congress. Unfortunately, they raised more ill will than operating capital by taking private jets instead of flying commercial. In addition, because none of them have watched cable television in years, they didn't expect the three-ring circus of Congressland, and came bearing no real plan. They learned their lesson, created real plans and drove to the Capitol where they were greeted with a big "no" orchestrated by Senate Republicans.
Having been rebuffed by Congress, the automakers won their bridge loans from The White House, though it may not be enough. The toll of the Carpocalypse is far from certain, but we know it's spreading. Chrysler has ceased production and no one knows when or if they're coming back. Honda posted its first half-year operating loss in more than a decade and Toyota, for the first time since the 1930s, may have a one-year loss.
The Acura NSX is dead. The Chinese may buy Hummer. GM is selling other stuff, too. If you have a job producing cars in the US you better start praying. If you have a job with a manufacturer-sponsored racing team you ought to join them.
We know where this started but we're not sure we know where it'll end. The Carpocalypse is the biggest story of 2008. We'll be drinking on New Year's to the hope it won't be the biggest story of 2009 as well.