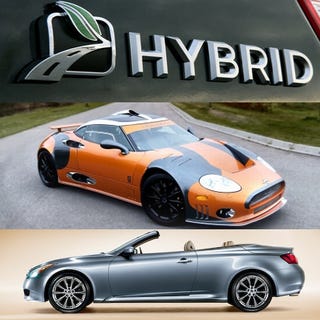 This year's
LA Auto Show
has three major themes: Hybrids, Convertibles and High Horsepower. It's an intense battle for the hearts and minds of the Los Angelenos, whose hearts want Horsepower, whose minds prefer hybrids and whose weather demands convertibles. Representing the Hybrids are the
2010 Mercury Milan Hybrid
and
2010 Fusion Hybrid
twins from Ford and the strange-lookiong
Toyota CNG Camry Hybrid
. In the High Horsepower corner we have the
Spyker C8 Laviolette LM85
,
2010 Ford Mustang
and
Nissan 370Z
. Convertibles also abound, including the
2009 Porsche Boxster
and
Mustang Convertible
. Who will be king? Given that this is the LA Auto Show, we're assuming that the Hollywood producers and financial types that use the auto show to make their Christmas (or Hanukkah) wish-lists don't have to make those kind of choices. Why chose one when you can have all in one package? That's where the
Lamborghini LP 560-4 Spyder
comes in handy. Fast? Check. Topless? Check. Ungodly expensive? Cash or Check!?! Just buy your assistant a
2010 Nissan Cube
to help offset your carbon emissions. Why live green when you have all that green to spend?
(QOTD is your chance to answer the day's most pressing automotive questions and experience the opinions of the insightful insiders, practicing pundits and gleeful gearheads that make up the Jalopnik commentariat. If you've got a suggestion for a good "Question Of The Day" send an email to tips at jalopnik dot com.)