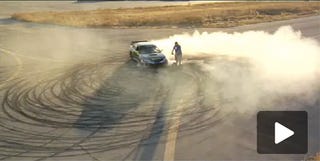 No, not
Gymkata
...
Gymkhana
! It's an automotive sport taking place on an open field or a parking lot requiring drivers to skillfully maneuver their cars around a series of cones, slaloms, 180 degree turns, 360 degree turns, figure eight turns or other obstacles.
Ken Block
's taken this concept a wee bit further...whipping his Crawford Performance-tuned 2006 Subaru Impreza WRX STI around some unusual course obstacles... like houses and hilariously, a stunt guy driving a Segway. Epic. You can now see why
0-60mag
just named the man "Hoon of the Year." Hit the jump for the full
Gymkhana
practice session video. We're going to pull our jaw up off the floor. (
Hat tip to everyone who sent this in!
) [via
0-60mag
]