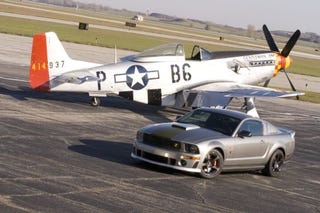 The 2009 Roush P-51B Mustang, an aviation-themed screamer of a pony, is the newest custom to emerge from the secretive skunkworks of Jack Roush's Detroit shop. Only 51 of these bad lads will be tearing up the streets with their 510 HP and matching torque thanks to a bounty of tasty engine goods and a BFS (Big Fookin' Supercharger). The whole lot has been tweaked and tugged, including sinister black chrome wheels, a Juggernaut-approved braking system and a slathering of Olive Drab accents. More about the gritty technical specs below.
The powerplant of this titan only visually resembles the stock three-valve found in the Mustang GT. This mill holds a completely forged rotating assembly, including new pistons, H-beam connecting rods and crankshaft. A new clutch and an ECM specifically tailored to this combination keeps everything in control and transmitting torque to the pavement. Six-piston brakes bring the whole thing to a slamming halt from 60 faster than Ford can release another version of the 'Stang. And that's fast. A ROUSH Stage 3 suspension keeps the whole ordeal firmly planted on the tarmac whether you're cruising this Hoonfather around your favorite race track or hitting the local drags. For tires, the P-51B rocks the stickiest of the icky: Cooper RS3's. This package seems spectacular until you get to the hefty recommended price tag of $65,800, which includes your destination charge and gas guzzler tax. At this price point, one could purchase a
2008 Corvette Z06
,
Porsche Boxster S Porsche Design Edition 2
or a
Lotus Exige S 240
. Just sayin'. However, as far as Mustang customs go, you'll be hard pressed to find many more capable unless you're willing to play in the arena of the super snakes from Shelby.