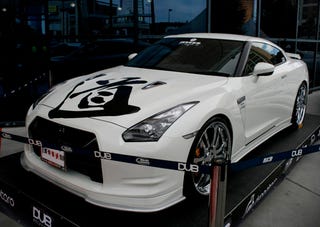 The new
Nissan GT-R
is just
too hard
to modify for performance, what with the tricky,
unhackable computer system
and the already
Porsche-confounding
performance. That's why Japanese tuners Branew brought their Branew GT-R to SEMA with only appearance upgrades. The car gets a revised front clip, side skirts, massive 23 inch wheels, a triple-tipped exhaust outlet, functional spoiler and rear splitter mounted on a very C5 Corvette-inspired tail end. The Branew GT-R will probably suffer from the classic tuner problem of being slower with all the extra pretty stuff on it — a characteristic most tuner car enthusiasts are able to ignore.