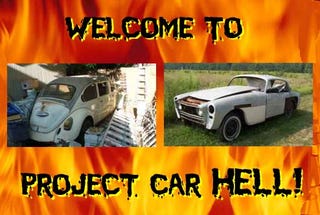 Welcome to
Project Car Hell
, where you choose your eternity by selecting the project that's the coolest... and the most hellish! Yesterday, the "get out of jail free" supercharged Beretta edged out the "must stand 100 feet back to take the photo" Mazda Millenia in
the Choose Your Eternity poll
, in a 54:46 split vote. For today, we're going with a couple of cars suggested by
24 Hours Of LeMons
-loving readers who were inspired by the
Corvair and Peugeot 505 Turbo racers
to look for
even better
LeMons entries…
When you think about a Chrysler-engined British car, the Jensen Interceptor is probably the first thing that comes to mind. While the Interceptor
makes a fine Project Car Hell candidate
, its perceived value to Jensen
masochists
aficionados is such that you'll never find one for anywhere close to the 500-buck 24 Hours Of LeMons limit. Hold on, though- what about the
Bristol 408
? Powered by the good ol' reliable
Chrysler 313
, the Bristol combined British style with Mopar drivetrain reliability… but is it possible to find one with a LeMons-legal price tag? Better hitch up the trailer and head for Wisconsin, because
this 1966 Bristol 408 Coupe
(go
here
if the ad disappears) has an asking price of just $500! The engine is bad, but there
must
be sufficient eBay-worthy pieces you can sell off this thing to score a running Chrysler small-block and Torqueflite transmission. Then just knock the suspension and brakes into quasi-functional shape and you'll be raceworthy. You can make it happen! Thanks to
Cheese-Eating Surrender Monkey
Bret
for the tip!
That Bristol would make you an instant LeMons legend, all right, but where's the
absurdity?
Sure, you'd have to be insane to run such a car, but you want members of other teams to stagger back in a mixture of awe and horror when they lay eyes on your racin' machine. A limousine would accomplish that, but there's the troublesome 4,000-pound weight limit to contend with. Unless… unless, of course, you were to get
this 1974 Super Beetle limo
(go
here
if the ad disappears), which has a bait-n-switch price of $8 but will likely go to the first buyer who waves a $100 bill under the seller's nose. There's no engine and transmission, but Pick Your Part is always chock-full of Beetles and Transporters, and any lawnmower mechanic armed with $9.98 worth of Brazilian replacement parts can get a Type 1 engine working just fine. Handling on the race track might be a little odd, since the pendulum with the big rear weight is now
longer
, but you won't be perturbed by the spinouts once you've got that Index Of Effluency and/or Organizer's Choice trophy in your shaky hands! Thanks to
LeMons Supreme Court Justice Loverman
for the tip!