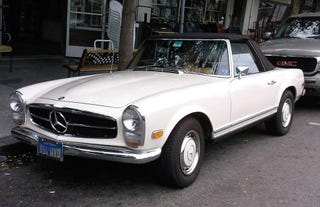 Welcome to
Down On The Street
, where we admire old vehicles found parked on the streets of the Island That Rust Forgot: Alameda, California. We've seen a couple of Mercedes-Benz SLs here-
this '82 380SL
and
this '87 560SL
, but it's been a challenge to find a
W113
on the island. Finally, I spotted this beautiful example parked in front of Pagano's Hardware, just around the corner from the
'69 Chevy Nomad
.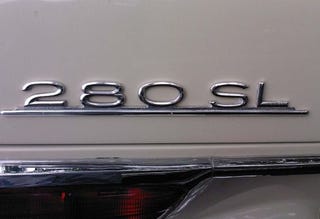 I was buying bamboo stakes for the punji pits in my front yard at the time- hey, got to be ready for the Financiapocalypse- so I didn't have my good camera on hand. Fortunately,
my cellphone
has a not-too-crappy camera built in. Then the owner emerged from the store, but fortunately he was proud enough of his car that he was willing to wait while I photographed it. He'd been shopping around for a restored SL for a few years and he finally found the one he wanted. Yes, it's his daily driver.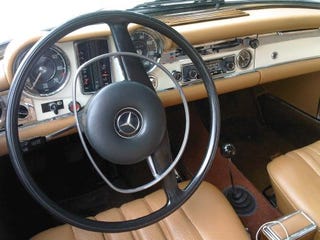 The 280SL roadster would have set you back $6,485 back in 1968. That's $350 more than a brand-new Crown Imperial convertible, more than twice as much as a '68 GTO convertible, and
way
more than twice as much as a Datsun Fairlady roadster. But I'm willing to bet that a majority of '68 380SLs are still alive today, unlike those other cars.