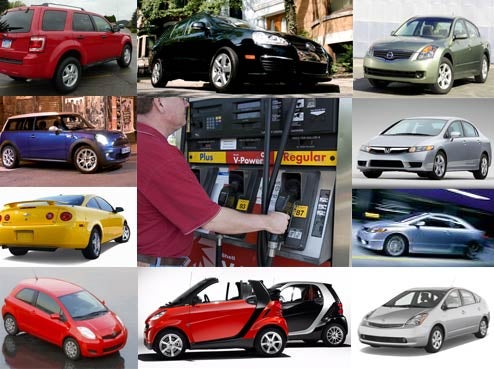 The Environmental Protection Agency just released their 2009 EPA Fuel Economy Guide and we've pored through the hot-off-the-presses data to pull out this list of the ten most fuel efficient cars for sale in the US next year. Not surprisingly, the Toyota Prius once again tops the list with a combined 48 mpg city/45 mpg highway performance. Though hybrids take four of the top five spots, the Volkswagen Jetta/Jetta SportWagen Diesels cracked the top ten with a 30/41 mpg rating. Also showing up in the lineup for the first time is the new Chevy Cobalt XFE with a fuel economy rating of 25/37 mpg. The rest of the list and the top performers in each category below.
The Ten Most Fuel Efficient Vehicles For 2009
We've provided you two lists, one of the top ten vehicles ranked by highest fuel economy in city driving, the other, by highest fuel economy on the highway
Make Model: City or Highway
By City:
1.) Toyota Prius: 48 2.) Honda Civic Hybrid: 40 3.) Nissan Altima Hybrid: 35 4.) Ford Escape/Mariner Hybrid 2WD: 34 5.) Smart Fortwo: 33 Toyota Camry Hybrid: 33 7.) Volkswagen Jetta/SportWagen Diesel: 30 8.) Toyota Yaris: 29 9.) Mini Cooper: 28 Honda FIt: 28
By Highway
1.) Toyota Prius: 45 Honda Civic Hybrid: 45 3.) Volkswagen Jetta/SportWagen Diesel: 41 Smart Fortwo: 41 5.) Chevy Cobalt/Pontiac G5 XFE: 37 Mini Cooper: 37 7.) Toyota Yaris: 36 Honda Civic/Civic CNG: 36 9.) Chevy Cobalt/Pontiac G5: 35 Toyota Corolla/Honda Fit: 35 Ford Focus: 35
The Most Fuel Efficient Cars By Category
This list covers the most fuel efficient cars by EPA category.
Two-Seater Cars Smart ForTwo: 33/41 Minicompact Cars Mini Cooper: 28/37 Compact Cars Honda Civic Hybrid: 40/45 Midsize Cars Toyota Prius Hybrid: 48/45 Small Station Wagons Volkswagen Jetta SportWagen Diesel: 30/41 Midsize Station Wagons Kia Rondo: 20/27 Small Pickup Trucks Ford Ranger 2WD: 21/26 Standard Pickup Trucks Chevrolet C15 Silverado/GMC Sierra Hybrid: 21/22 Cargo Vans Chevrolet/GMC G1500: 15/20 Minivans Mazda Mazda5: 22/28 Sport Utility Vehicles Ford Escape/Mercury Mariner/Mazda Tribute Hybrid 2WD: 34/31
[Source:
FuelEconomy.gov
]