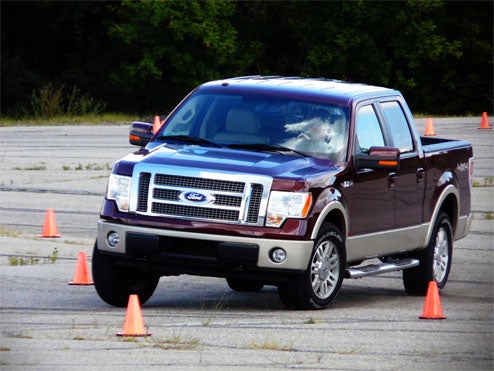 The 2009 Ford F-150 comes from people who are intensely aware of what a pickup truck should do, how it should perform and what the customer is after. With the latest iteration of the F-150, Ford has a considerable reputation to live up to and in the face of dwindling pickup sales, needs to make some big promises to attract the customers still in the market. So the question becomes, when you are already the king of an ever-dwindling hill, how do you make that hill bigger?
Ford has come into this new product cycle with both barrels blazing, offering up the most capability it's ever packaged into a light-duty pickup. It boasts class-leading capabilities like a maximum 11,300 lb towing capacity and a 3,030 lb maximum payload capacity, while also offering best-in-class fuel economy (tied with the Chevy Silverado XFE) of 15 MPG in the city and 21 MPG on the highway when you opt for the fuel-sipping SFE model. But that's only one of seven trim levels, each configurable with three powertrains, 13 wheels (that's more than the number of models of vehicles Honda sells stateside), four different bed configurations, three different cab lengths and the choice of two- or four-wheel-drive — a far cry from Henry Ford's Model T option list of "black." I've had a chance to drive a few iterations of the new F-150, digesting Ford's new product and seeing how it stands up to the program's goals and what I've decided is at the end of the day, a truck can be broken into a few important components; the cab, box, drive system, engine and the transmission. As the variety of options for the F-150 is so immense, it's more practical to talk about the parts leading up to the sum, rather than the myriad combinations. At least, that is unless you want this review in book form. Let's get started.
2009 Ford F-150: The Engines
At launch, the F-150 will be available with three different engines, the 5.4-liter V8, a new 4.6-liter three-valve V8, or a carryover 4.6-liter two-valve V8. The 5.4 and 4.6 three-valve are both mated to a new six speed transmission while the older two-valve V8 keeps the four speed as the low cost option. The 5.4 gets a power bump up to 320 HP at 5000 RPM and 390 lb-ft of torque coming in at 3,500 RPM, the engine is a brute and the new six speed improves power delivery in all use situations — acceleration is considerably better, towing is almost effortless and fuel economy is improved. We suspect with volatile fuel prices, consumers and fleets alike will be more likely to consider the new 4.6-liter three-valve option and they won't be disappointed. The 4.6 delivers 292 HP at 5,700 RPM and 320 lb-ft of torque at 4,000 RPM, it's a strong engine with healthy power delivery. In around-town driving, performance is virtually indistinguishable from the bigger, thirstier 5.4-liter. The carryover 4.6-liter two-valve engine with 248 HP and 294 lb-ft of torque is a bit hobbled in comparison by the four speed, but offers a decent choice for those looking at the low cost option. We're waiting with bated breath for the Ecoboost V6, but the direct-injection twin turbo V6 is still a bit in the future.
Transmission
It sounds funny to say, but the new six speed transmission is a stand out feature of the new F-150. The truck has emerged from the four speed doldrums with a well sorted and smartly programmed cog swapper. Back-to-back testing in 2008 versus 2009 F-150s makes it easy to recognize the improvement; On the on-ramp, the truck accelerates where before it bogged down, up and downshifting are smarter and quicker. The real magic isn't in the swiftness though, it's in the towing. Hook a heavy trailer up to the F-150 and the transmission shines. The gear spacing is excellent, keeping the engine in the power range, and there is very little hunting and pecking as we've seen with other full size trucks. When in tow mode the transmission holds gears longer and more impressively, with each tap of the brake, downshifts, providing engine braking immediately. A slick trick none of the competitors match.
Cargo Box
The F-150 offers four different box options, a 5.5 foot box, 6.5-foot box, a 6.5-foot style side, and an 8-foot box. All can be outfitted with a raft of goodies like the fold-out tailgate step first seen on the Super Duty pickups. If you've never used it, it's actually a pretty slick idea. It folds away when not in use and works better than jumping in and out of the bed. Speaking of folding away, a new option is a stowable bed extender which does away with the dual problems of needing a bed extender and having no place to put it. Along the side you get the option of a box side step which expands with a kick and retracts with a push. Considering the bed rails are so tall these days, reaching over the side of the truck is tough for all but the tallest folks, and it's pretty sturdy. Kind of a gimmicky option, but if you want it, it's well designed. The final option is the cargo rails, which when installed along the bed sides are pretty beefy, offering up to 600 lbs of load per cleat. We didn't really get to test these out, but they seem like a nice option if you need it. It strikes us that if you load up a bed with all of these options, there's still a lot of storage space, but it seems awfully cluttered.
Cabins
There are three different cabin styles amid the seven trims — a Baskin-Robbins level of choice we find a bit ridiculous. Are there really seven iterations between rubber-floored XL work truck and ultra-luxe leather-clad Platinum? Ford seems to think so. Ford has dropped the silly tiny doors on the regular cab model (and we suspect a great deal of cost) while stretching out the legroom in the all three cabs. We've sampled most, if not all of the trims — it's hard to tell which one you're in from time to time — and we feel comfortable saying they are all damn nice places to be. Even with the baseline trucks, the seats are comfortable, the gauges are easily read and communicate quite a bit of information, and there are some clever features. For instance, if you buy a truck equipped with a center console, the storage bin between the seats is designed to hold hanging folders. We haven't
used
hanging folders since our engineering days, but that's a pretty cool idea — especially for the contractor on the go. Other goodies include obnoxiously awesome leather for the King Ranch and Platinum Edition, a pretty slick sounding Sony-branded audio system, heated and cooled seats and Ford's spectacular Sirius Travel Link system (seriously, it's awesome). Something you don't notice until you drive an '08 and an '09 back to back is how the longer doors on the extended cab and crew cab models provide a lot better side visibility, as the door glass extends far back behind your should line.
Drivetrains
Where the cabin options are incredibly varied, the drivetrains offer simplicity. You get your choice of two wheel drive or four wheel drive, a locking rear diff, and four rear axle ratios ranging from 3.15:1 to 3.73:1. That's it. One interesting option, featured as standard equipment in the FX4 package, is the rear-locking differential, with a slick new design this year. The locker incorporates an electromagnetic ring that does the locking using only four moving parts. It's vastly simpler than the outgoing design and allows a quick engagement when you drop the truck into neutral.
Driving Impression
So now after we've taken a look at all those parts, what's the new F-150 like to drive? Considering we've tested it in situations ranging from around town, stop and go traffic, to highway, freeway, dirt roads, hauling, towing, off-roading and autocrossing, there isn't a lot we don't know about how the F-150 performs. It really comes down to choice. As we alluded to earlier, the F-150 is well mannered on regular roads, it brings additional quiet, refined steering feel and those firmer seats really make longer distances more comfy. When you get serious about corners though, the F-150 offers mixed results. Performance on the autocross course is incredibly dependent on your choice of wheelbase, engine, four or two wheel drive, and wheel size. While it's rigid, fully boxed frame provides a great place to start from, the tuning for suspension travel and towing leaves the truck prone to healthy understeer, no surprise there. Its traction control system does a respectable job of keeping you out of trouble, but it'll let you get into a little throttle induced oversteer if you try. We have noticed a strange steering feedback at low speed hard cornering in 4x4 models, where steering effort spikes. Perplexed, we asked the engineering teams about it and the explanation has to do with the interaction with the front differential being engaged on the fly and used to direct power to the slipping wheels. Whatever the case, it was a bit disconcerting. Otherwise, turn in is sharp and predictable, at-limit control is predictable, and over the limit recovery is undramatic. Braking is handled without drama by the 13.7 inch front discs and 13.0 inch rears, and if you upgrade to the trailer towing package, you get integrated trailer brake control with trailer sway mitigation — a slick trick of accelerometers and predictive algorithms which detects trailer sway and addresses it with the application of the truck brakes and the trailer's brakes. A similar system exists without a seven pin hookup for electronic trailer brakes but relies on the truck only to manage the correction. Of course, pavement ends, and when it does, the FX4 package with its tuned shocks, locking diff, and off-road spec tires is there to meet all comers. While it's no Jeep Wrangler, it's closer to mountain goat than not. We tackled approach angles we never thought we'd make, tight corners and serious mud. Those mirror cutouts are handy for more than just styling, giving visibility when your nose is way up in the air. We managed to get stuck only once, and that was in a mud hole we had made it through before. Or course, that was about two feet of mud with ruts up to the axles. We have reached a high precipice from which to look down on the history of pickup trucks. Capabilities dwarf those of only a decade ago, interiors are available to match the finest German luxury barges, operating costs have been diminished, longevity is unprecedented, and buyers are as loyal as they've ever been. Without question this new truck is better than the outgoing model — quieter, smoother, more powerful, smarter — and considering the reputation the truck has to live up to, that's not really too surprising. We'd have no problem recommending the truck, but then again, there aren't too many trucks we wouldn't. When capabilities reach these kind of levels where capabilities and capacities vastly exceed the needs of most consumers then it's really all about brand preference. Considering the F-150 has nine million customers out there, we suspect it'll do just fine.
Vitals
· Manufacturer: Ford · Models tested: F-150 XL, STX, FX4, XLT, Lariat, King Ranch, Platinum Edition · Model year: 2009 · Base Prices: -XL: $21,320 -STX $24,120 -XLT $25,290 -FX4 $34,605 -Lariat $33.160 -King Ranch $39,815 -Platinum $41,415 · Engine types: -4.6 liter 2 Valve V8 · Horsepower: 248 HP @ 4,750 rpm · Torque: 294 lb-ft @ 4000 rpm -4.6 liter 3 Valve V8 · Horsepower: 292 hp @ 5,700 rpm · Torque: 320 lb-ft @ 4,000 rpm -5.4 liter V8 · Horsepower: 320 hp @ 5000 rpm · Torque: 390 lb-ft @ 3,500 rpm · Fuel economy city/highway: -14/19 (4.6L 2V w/4x2) -14/18 (4.6L 2V 4X4) -15/20 (4.6L 3V 4X2) -14/19 (4.6L 3V 4X4) -14/19 (4.6L 3V 4X4) -15/21 Projected (4.6L 3V 4X2 SFE - high mileage model) -14/20 (5.4L 4X2) -14/18 (5.4L 4X4) · NHTSA crash test rating front/side/rollover: 5/5/5