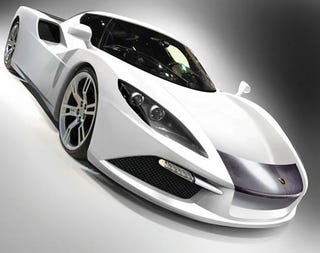 We reported earlier this year the product of snubbed would-be Enzo buyer
Arash Farboud
, the
Arash AF10
, was getting closer to production. Now we have details and what looks like photos of a working prototype. Powered by GM's 505 HP 7.0-liter LS7 found in the Z06, the "
Enzo
-killer" should hit a 3.4 second 0-to-60 time (within a tenth of the Enzo) with a top speed of 204 MPH. All of this comes at a price of just $300,000 (w/VAT) for one of the 25 cars annually produced, a few of which, we're told, are destined for the US. The company also announced plans for an
FXX
-fighting AF10-S version with a planned 850 HP, proving that hell hath no fury like a wealthy car-collector scorned. Details below the jump.
Specifications # Price: £172,000. Inclusive of VAT. # Full carbon body. # Carbon and steel chassis. # V8 7-liter GM Engine. Titanium Conrods, dry sump with cooling. # 550bhp at 6000rpm. # 6 speed manual Grazianno transmission. # 19 inch wheel standard 21 inch as per picture option. # Supercharged version to be released at later date with 850bhp (AF10-S). # Full leather interior. # Lift up dihedral doors. # Full warranty and roadside assistance. # Full lifetime body warranty. # 0-60 mph in 3.4 seconds. # Top speed 204 mph # Active front and rear wings. # Standard sat nav, mp3 player, rear view camera fully integrated touchscreen # Wheel base 2690 mm
[Source:
Global Motors
]