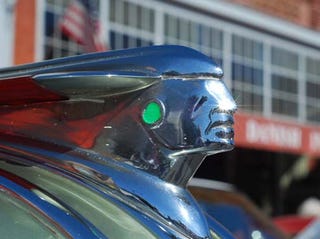 Every October, the old-time gearheads at
Lee Auto Supply
take over Alameda's main drag for the Park Street Classic Car Show. As we
saw
last year
, I prefer obsessive close-ups of emblems and carburetors to shots of endless rows of 60s Mustangs and Camaros- hey, you can find that stuff
anywhere
! Make the jump to see hundreds of photos of gleaming, chrome-plated goodness!
First, we've got a couple galleries full of emblems and trim.
Then we've got hood ornaments. Bring back the big chrome hood ornaments, Detroit!
I found a handful of
DOTS
cars at the show, including the
'61 Mini
, the
'50 Ford
(which now has a new paint job), the
'64 Dart wagon
, the
'65 Thunderbird
, the
'55 Mercury
, the
'37 Cadillac
, and the
'60 VW Transporter
.
And here's a final gallery of hood scoops, engines, and other stuff. Enjoy!