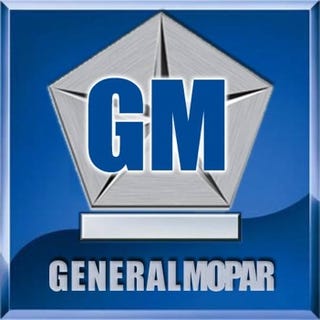 According to a report by Bill Vlasic and Andrew Ross Sorkin that just went live on the
New York Times
website, Chrysler and GM have been in merger talks for the last month. As of today, it's a "50-50" shot that it'll happen. While we've been talking about talks between the two companies for over a year — specifically on trucks — this is something entirely different. Just think, we may finally see the all-vinyl body we've been asking American automakers for all these years. We'll have more shortly — CNBC just called and asked us to jump on the phone for a moment to discuss on air.
UPDATE: According to Sorkin on CNBC moments ago, the terms of the deal currently being worked out would have Cerberus end up owning a major stake in the combined firm. So sorry Cerberus, you won't be getting your fat fully out of the automotive fire just yet!
UPDATE #2: We just realized this will make NASCAR irrelevant to the auto industry.
UPDATE #3: Check out the CNBC republish of the NYT story here with my quick comments on the air with Sorkin and CNBC's Phil LeBeau.
UPDATE #4: We officially dub this new fantasy corporation "General Mopar." Remember folks, you heard it here first.
UPDATE #5: Lori McTavish, Executive Director, Communications, Chrysler LLC has put out a non-statement in response to questions regarding a potential merger between Chrysler and GM. Hit the jump for it.
"Chrysler LLC as a matter of policy does not confirm or disclose the nature of its private business meetings. As we have said, the Company is looking at a number of potential global partnerships as it explores growth opportunities around the world. Beyond those partnerships already announced however, Chrysler has not formed any new agreements and has no further announcements to make at this time."
[CNBC, NYT]