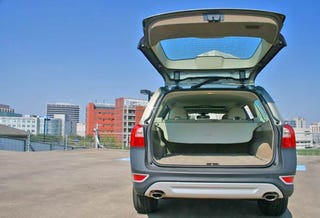 Why you should buy the 2009 Volvo XC70 T6:
Frankly, the world scares you. You've got three great kids and you'll do your best to guarantee that nothing happens to them between your gated community and their Montessori school. Your country club is on the other side of a somewhat bumpy road. You want a Volvo, so why not get a ridiculous one?
Why you shouldn't buy this car:
You see this for what this is: the Volvo "Cross Country Club" and not an SUV. You could find a better use for $40K. You like your kids but, honestly, you survived in the back of a Country Squire with no seatbelts and a rust hole in the floor and you turned out all right. If you have to get a Volvo station wagon, you'll track down a classic diesel boxy wagon.
Suitability Parameters:
Speed Merchants: No Fashion Victims: Yes Treehuggers: No Mack Daddies: No Tuner Crowd: No Hairdressers: No Penny Pinchers: No Euro Snobs: Yes Working Stiffs: No Technogeeks: No Poseurs: Yes Soccer Moms: YES! Nascar Dads: No Golfing Grandparents: Yes
Also Consider:
• Audi allroad • BMW 328i xDrive Sports Wagon • The V70 T5 that
Joshman
seems a bit desperate to sell • Mercedes R320 CDI
Vitals:
• Manufacturer: Volvo • Model year: 2009 • Base Price: $39,500 • Price as Tested: $46,985 • Engine type: 3.0-liter I6 • Horsepower: 281 @ 5,600 RPM • Torque: 295 @ 1,500 RPM • Transmission: 6-speed Geartronic Auto • Curb Weight: 4,092 lbs • LxWxH: 190.5" x 73.3" x 63.0" • Wheelbase: 110.0" • Tires: P235/55R17 • 0 - 60 mph: 7.2 Seconds • EPA Fuel economy city/highway: 15/22 MPG • Jalopnik Estimated Fuel Economy: 15.42 (post-Hurricane Conditions) • NHTSA crash test rating: N/A Also see: