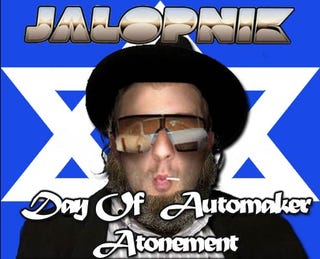 It's Yom Kippur, the Jewish Day of Atonement, and we here at Jalopnik take that very seriously. Where is our great editor Ray Wert? He's out atoning and, just ask Chrysler, he has a lot to atone for. In that spirit we thought it would only be fair for automakers, Goyim and chosen people alike, to apologize for a few transgressions. Not every automaker is perfect and we think it'll be spiritually cleansing for them to atone, to say sorry, to throw out an "our bad." Seriously. It's the right thing to do. But what should they apologize for? Maybe they'll have problem saying it themselves. Let's help them out. Let us know below what cars automakers need to atone for and check out our list of automakers we've identified as needing spiritual help.
The Atonement List - Identify A Car For One Or More
Ford
GM
Chrysler
Honda
Toyota
Nissan-Renault
BMW
Mercedes
Volkswagen
Mitsubishi
Hyundai
Be a mensch and give us a hand by identifying a car for each automaker that they should atone for.