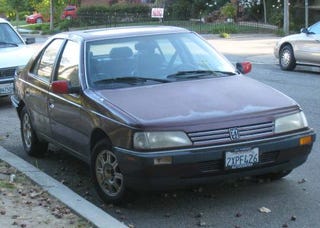 Welcome to
Down On The Street
, where we admire old vehicles found parked on the streets of the Island That Rust Forgot: Alameda, California. We haven't seen a Peugeot in this series
since the '60 403
in July, and before that there was only the
'85 505
. I'm still hoping that a 504- the only kind of French car I've ever had the privilege (if that's the right word) to own myself- will show up, but for now the next best best thing is this 1991 Peugeot 405 S. Now, 1991 is pretty recent for DOTS, but keep in mind that this was the
very last year
for new Peugeot sales in the United States, which makes this car an important piece of American automotive history.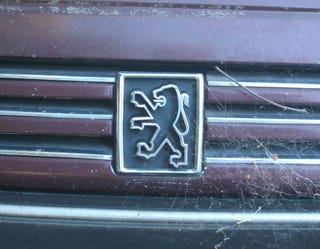 This car parks in front of the same house that was once home to the
'85 Peugeot 505
, and it's visible in the background of the shots of that car. However, that 505 sedan is now gone… replaced by a 505 wagon. Don't worry, Peugeot fans, we'll check out that car later on.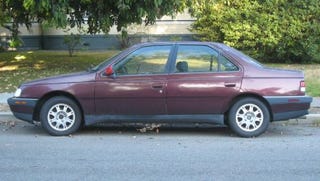 Only 2,223 Peugeots were sold in the United States in 1991, prompting Peugeot Motors Of America to say "See ya!" and close up shop. This car sold new for $17,770, which wasn't too bad for a European sedan at that time; the BMW 318i came with a price tag nearly $2,500 higher. However, when you could get a Honda Accord sedan for $12,825 that year, Americans weren't going to roll the dice on a brand that never was able to shake a rep for abysmal reliability built up during the Malaise Era.