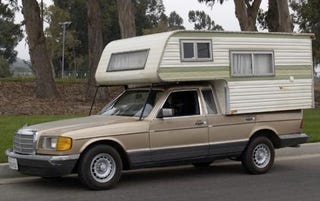 This Mercedes 300SD camper conversion nicely combines two of our
Ten Best Vehicles For The Coming Financiapocalypse
. Essentially it's a sedan that's been
hacked
"professionally built by a skilled fabricator"
into a 300SD-amino, and then had a pickup truck-bed camper plopped in the back. For just $4000 it's not a bad deal, with two beds, a table and even a kitchen sink. Of course, you could always combine two other cars on the list — an air-cooled VW and a mini RV — for the more traditional alternative of a VW
stoner
camper van. We'll still probably just follow our own advice and hold onto
what we own now
.
[
LA Craigslist
]
(Hat tip to Aleksandr!)