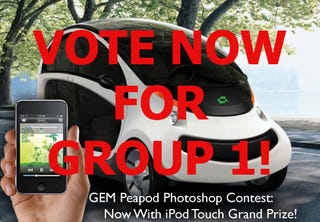 OK, put down your pens, pencils and mice — time's up. Now comes the fun part — voting for the best of the best of the
GEM Peapod photoshop contest entries
and crowning a winner to receive the grand prize — an iPod Touch (courtesy of the folks with the GEM team at Chrysler)! And while fun, it's going to be a huge job. We received an amazing 188 p-chopped entries of the happy little
electric car for "gated communities."
That's way too many for our piddly-dink poll software to deal with, so we've gone and split them up into four groups, each with 47 entries. We'll run all four rounds today, an hour apart. This first round of voting will run until 11:59:59 PM tomorrow (Wednesday). The top five vote-getters from each group will move on to a final round of voting running from Thursday at noon to 11:59:59 PM Sunday. We'll announce the winner Monday morning. With that, here's group one, poll after the jump. Remember, vote early — and come back in an hour for the next group! As always,
standard contest rules apply
.