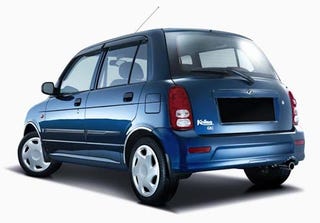 The three robbers in Saujana Impian, Malaysia, had almost all the details worked out for the perfect crime.
Almost
. They did pretty well with the part involving the hijacking of an armored Toyota van carrying cash for ATMs. And the getaway? Flawless! Then, however, the weak link in their scheme made itself known; their
Perodua Kelisa
proved too small to fit all the loot, and they had to leave nearly half the cash behind in the van. The Kelisa, you may recall, is the car Jeremy Clarkson described as being "made in a jungle clearing by someone who went to work on an ox,"
enraging the Malaysian Parliament
. Make the jump to see the Kelisa's famous appearances on
Top Gear
.
First, let's watch Captain Slow's take on the £5,000 Kelisa:
Jeremy Clarkson, however, didn't like the little Malaysian car quite as much: [
Malaysia Star
]