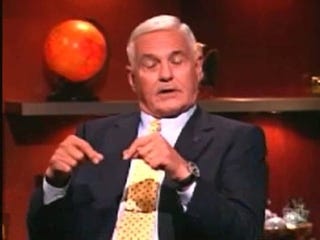 After GM product czar and vice-chairman, Bob Lutz, appeared on the Colbert Report
the other night
, he's decided to give his own take on his "non-outrageous" responses to Stephen Colbert's "outrageous" questions on topics like...
global warming
(or global toasting). He believes he and Colbert "connected." We don't know if that's the type of rapport we saw the other night on the Report, but whatever helps "Maximum" Bob sleep at night, ya know? We're just disappointed he didn't send us any pictures from
his Treo
. If you missed the show the first time, we've got the full clip below the jump — and no — it's not from "Hulu."
Click to view
[
FastLane
]