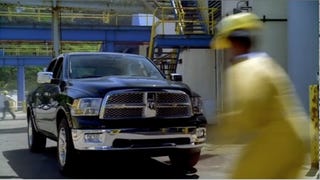 Product:
2009 Dodge Ram
TV Show / Movie:
Terminator: The Sarah Connor Chronicles
Episode / Scene Name:
Automatic for the People
Plot:
Driving up to the nuclear power plant, the 2009 Dodge Ram is sure looking clean and shiny, isn't it? Wethinks perhaps a work truck should NEVER look this clean. Especially when it's being driven by the uncle of the future leader of the resistance.
Welcome to Adventures In Automotive Product Placement — our irregular series where we highlight the pay-for-play car stars of the silver and small screens. Spot a blatant automotive product placement on the airwaves? Send it to us at tips-at-jalopnik-dot-com.