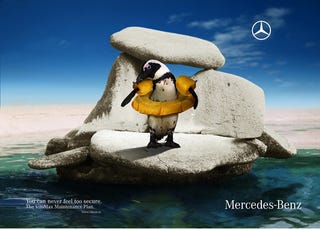 What It's Selling:
A maintenance plan for the Mercedes Vito van.
Where It's At:
South Africa
What This Ad Intends To Say:
"You can never feel too secure." This maintenance plan provides "ultimate protection," meaning — you have nothing to worry about.
What This Ad Suggests:
This maintenance provides ultimate protection, wimp. Look at that silly penguin. You are that silly penguin. Silly penguin!
Jalopnik Snap Judgment:
When we first saw this advertisement we thought it was saying "our cars pollute the environment, causing the polar ice caps to melt... but no more!" Others were leaning towards the advertisement indicating that Mercedes drivers are afraid of the world. Upon further inspection we sort of get what they're going for but, on the whole, the advertisement is more confusing than helpful. [Souce:
Ads Of The World