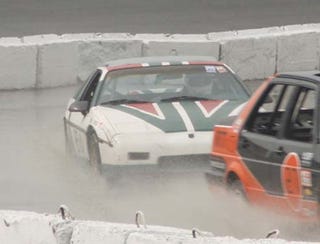 The tale of the Pontiac Fiero entered by some
Car & Driver
guys (not, as I may have implied earlier, actually sponsored by
C&D
) at the
24 Hours of LeMons SF
in May was indeed heartbreaking: after
Mike Austin
's sister Erica spent three days towing the car all the way out from Michigan, the plastic Pontiac managed
seven laps
before clutch and transmission woes made it a permanent fixture in the pits.
My team
was pitted nearby, and we were impressed by the team's good humor in the face of their nightmare. For the Toledo race, they came roaring back with a new name (Seven Lap Fiero), and things were going great for a while…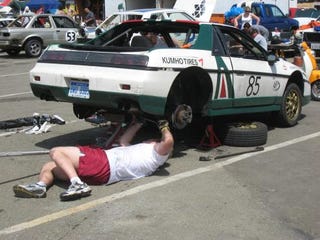 By all accounts, the Fiero was quite fast (vindicating the legions of Fiero zealots who fill their forums with lists of reasons for the Fiero being the
ultimate
24 Hours of LeMons car), but then disaster struck. They got rear-ended in most crushing fashion by a team that will remain nameless (because I couldn't get that info) and the brake lines took some sort of impossible-to-repair-quickly damage. Let's hope they come to Houston next month for another try!