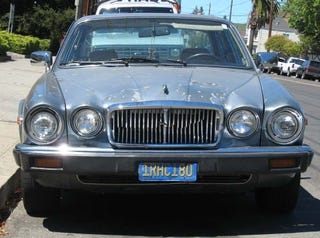 Welcome to
Down On The Street
, where we admire old vehicles found parked on the streets of the Island That Rust Forgot: Alameda, California. The Jaguar XJ6 sold in fairly large numbers in North America during the 70s and 80s, but you don't see many of them on the street these days. Perhaps that's because brutish, ham-fisted Americans (and those Moosehead-swilling, tuque-wearing Canadians) can't be trusted with such precision British machinery… or maybe all those
British car jokes
really do draw from a well of all-too-painful reality. Either way, a few of these cars are still alive in Alameda; we've seen
this total beater '78
and
this semi-nice '84
, and now we're going to look at this somewhat rough '86.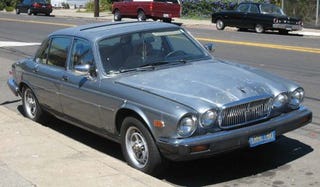 It's always fun with DOTS cars park near each other; that's the
'62 Ford Falcon
across the street. I see the Falcon driving around town on a regular basis, but the Jaguar doesn't seem to move much… if at all.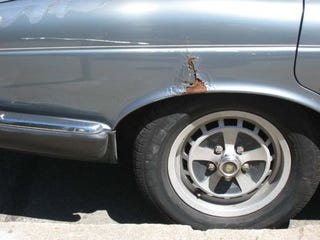 The list price on this cat in 1986 was $32,250, about what Adnan Khashoggi might charge for a few cases of hand grenades bound for Nicaraguan "freedom fighters," or what a couple of bent S&L execs might spend on lunch. For about a grand less, you could have bought a new BMW 535i; for $218 less, a new '86 Corvette convertible could have been yours.