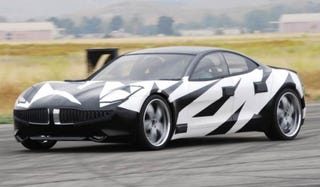 After "
spy photos
" of the Fisker Karma were handed out cataloging its "testing" earlier this summer, it seems Fisker Automotive has managed to secure $65 million in funding towards production of its mega-hyped super-hybrid saloon. Not only has Fisker gotten a hot moolah injection, but venture capital mega-house Kleiner Perkins, among others, has tossed some dough behind the effort. According to
Automotive News
the Karma also gets a name for it's hybrid drive — the Q-drive, based on tech from Quantum Fuel Systems Technologies Worldwide; not at all from Tesla, who is
suing the pants off of Fisker
for infringement. Fisker says the first Karma will be ready for production by the end of 2009, and we say we'll eat the hat of your choosing should that come to pass.
AutoNews
Sub. Req.]